Sierra Leone Couple Uses Bicycle To Attend Their Wedding Reception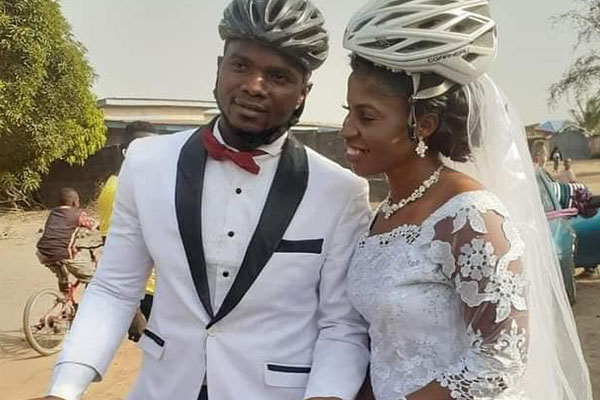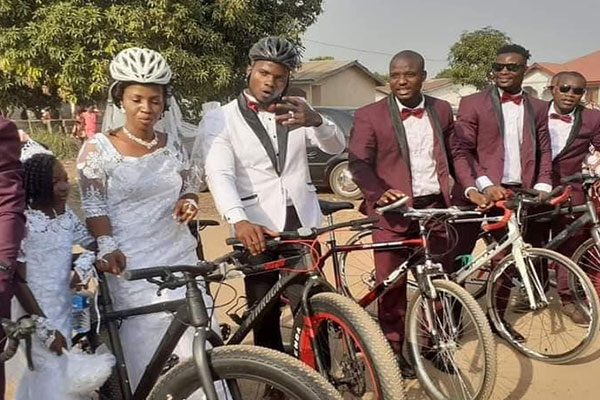 The strangely unusual to one is a creative initiative to another. A couple took a bicycle to their wedding reception instead of a vehicle in Sierra Leone.
Sierra Leone's female cyclist, Isata Sama Mondeh wowed many by marrying her beloved heartthrob in a peloton that has left many Sierra Leoneans in awe. This might be absolutely influenced by her profession being a cyclist
Reports gathered that cyclists in Sierra Leone graced the ceremony. Meanwhile, the happening has now become the talk on social media as the couples and friends opted for bicycles instead of conventional motor vehicles.
Isata Sama Mondeh is Sierra Leone's current fastest female cyclist. Meanwhile, she is also the first female bicycle mechanic in Sierra Leone. Isata is the first female bike mechanic to own a bike shop in Sierra Leone and she has staffs too.
Isata had participated in the Tour de Lunsar where She won the first position in the female category. As the country's first female mechanic, she is breaking stereotypes and working hard to build up financially. She is setting up a business that might support her and her family. She convincingly uses her experience as evidence when she talks to girls, families and community members and she addresses traditional cultural view head-on.
Wellwisher celebrates with them who encourage other females around the world who want to get into cycling.