The All New Audi Q8 Is Indeed A Luxury Sport SUV (Photos)
The Audi Q8 combines the elegance of a four-door luxury coupé with the practical versatility of a large SUV.
This beauty on wheels measures 4.99 meters (16.4 ft) long, 2.00 meters (6.6 ft) wide and 1.71 meters (5.6 ft) tall.  This SUV coupe is wider, shorter and lower than its Q7 sister model.
It also has a wheelbase of nearly 3.00 meters (9.8 ft), and offers a spacious interior that beats of its direct competitors in most relevant dimensions, including interior length and headroom.
There is a three-seat system in the rear with longitudinally adjusting upon request. With the seat backs folded down, the luggage compartment under the power rear hatch holds up to 1,755 liters (62.0 cu ft).
Standard LED headlights illuminate the road, with HD Matrix LED technology available as an option. Here both the three-dimensional signature of the daytime running lights and the taillights have a digital character.
A light strip connects the units at the rear. As in the original Audi quattro, a black surface underlays this strip.
Q8 owners can use the myAudi app on their smartphone to activate various lighting functions and experience them from the outside.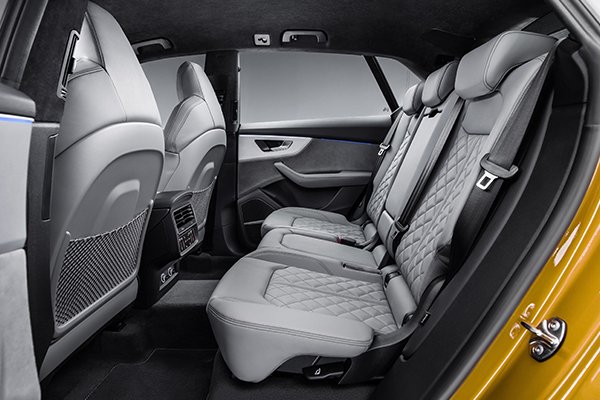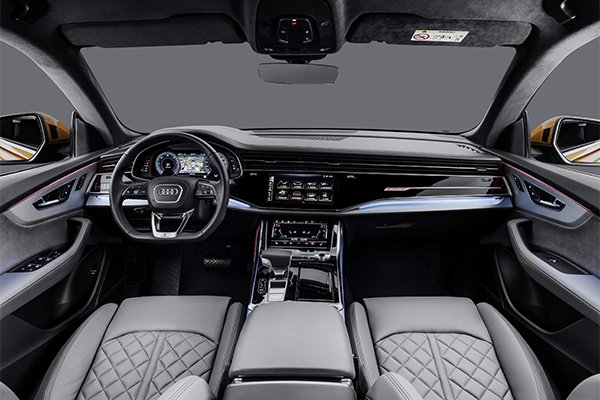 The Audi Q8 is top-notch with respect to sound and connection quality thanks to the Audi phone box and voice-over LTE.
The same applies to the Bang & Olufsen Advanced Sound System. It delivers fascinating 3D sound with height information to all five seats. The music unfolds exactly how it was recorded in the concert hall.
Whether parking, in the city or on long journeys – the Audi Q8 supports its driver in many situations. Among the systems contributing here are the adaptive cruise assist, efficiency assist, crossing assist, lane change warning, curb warning and 360 degree cameras. One highlight is the remote garage pilot, which will follow in early 2019. Under the supervision of the driver, it guides the SUV into a garage and back out again autonomously. The driver gets out of the car beforehand and activates the process using the myAudi app on their smartphone.
The Audi Q8 launches in the third quarter of 2018.