The Asaba Flyover Bridge: 10 Things to Know About This Beautiful Landmark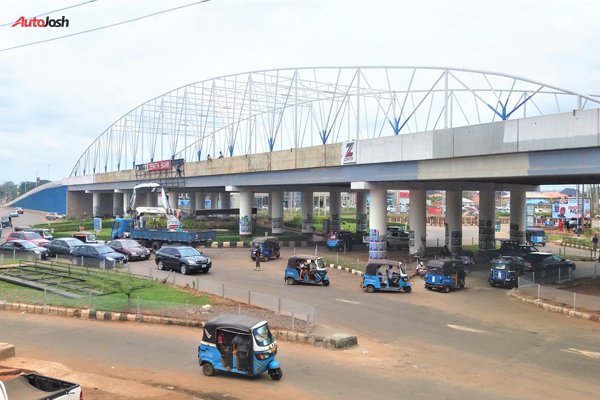 The Asaba flyover bridge is one of 3 flyover bridges in Delta state. The others are the Warri and Idu Flyover Bridges.
The Asaba flyover bridge is located at the intersection of Nnebisi-Okpanam-Anwai roads (inter-bau) roundabout in Asaba.
The Asaba flyover bridge was constructed by the ex-Governor Emmanuel Uduaghan-led administration of Delta State.
The bridge is a 120 meter-long six-span bridge, with two ramps of about 140 meters each on either approach bringing it to a total of 400 meters long. The entire bridge/ramps structure is a four-lane dual carriageway, comprising two in each travel direction demarcated with a New Jersey Barrier.
The contract for the construction of the bridge was awarded to Messrs Consolidated Construction Company (CCC) Nigeria Limited on August 16, 2013.
The flyover bridge was conceived specifically to ease the traffic challenge in Asaba as the city gradually grows to become a metropolitan center. The bridges also ease traffic on the road, which connects Edo State and reduces the time of journey from Asaba to Abuja and other parts of the country through Edo State.
Sometime in June 2018, the Asaba Bridge was temporary shutdown to motorists for a promotional photo shoot on the bridge for a fashion show.
The Asaba flyover bridge was built at a cost of N3.5billion.
The Chief Press Secretary to Governor Ifeanyi Okowa,  Charles Aniagwu recently disclosed that the Okowa administration made the payment to the contractor that handled that project.
The bridge was officially commissioned on Thursday, April 9, 2015.