The New And Only Pedestrian Bridge In Benin-City Finally Opened For Public Use (PHOTOS)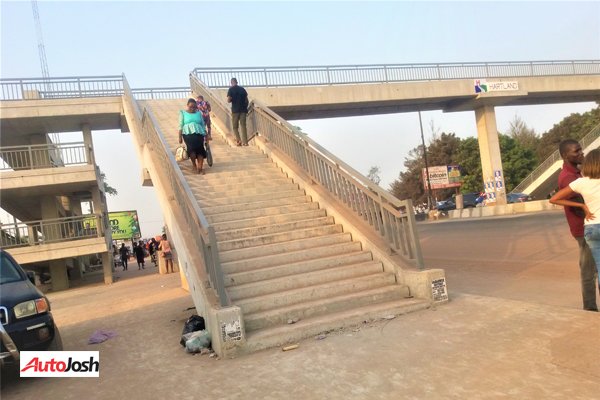 The new and only Pedestrian Bridge in Benin-city, the Edo state capital, is now open for public use.
The Pedestrian Bridge is situated across a federal highway – the Benin-Lagos expressway –  in front of the main gate of the University of Benin (UNIBEN).
The Pedestrian Bridge was constructed by the Godwin Obaseki-led Edo state government.
Before now, no pedestrian bridge existed in the Benin-city. Though, this new pedestrian bridge is not the first to be constructed in the state capital.
The first Pedestrian Bridge was constructed in the early '90s.  It was constructed about 500 meters away from where this new one is located.  It was built in front of the University of Benin Teaching Hospital (UBTH).
The UBTH Pedestrian bridge – the first to be built in Edo state –  suffered severe lack of usage. Ostensibly, this led to its eventual dismantling and disappearance from that location. That Pedestrian Bridge was constructed by Lucky Igbinedion, during his stint as the Chairman of Oredo Local Government council.
It could be recalled that several students of the University  of Benin (UNIBEN) have lost their lives while attempting to cross the ever-busy Benin-Lagos expressway to the institution's campus. The most recent being the one involving a certain Late Rita Awele.
All these informed the decision by the Edo state government to construct a pedestrian bridge in front of the UNIBEN main gate.
The new Pedestrian Bridge was constructed by Hartland Construction.