Sanwo-Olu Awards 160 Road Contracts, As The Rains Subsides
Sanwo-Olu Awards 160 Road Contracts, As The Rains Subsides
The Lagos State Government have awarded contracts for the construction and rehabilitation of 160 roads in Lagos. This is in addition to 20 road projects that had previously been awarded. These roads include Ijede road, Igbogbo – Isawo road and others.
This information was made known by the Executive Governor of Lagos State, Babajide Sanwo-Olu. He made the announcement in a series of tweets on his official twitter handle.
Sanwo-Olu Awards 160 Road Contracts, As The Rains Subsides
According to the Governor, "On road rehabilitation and construction, the rains have subsided and we have embarked on massive rehabilitation of the roads. We have awarded work on 160 roads and an additional 20 in the past month. These roads include Ijede road, Igbogbo – Isawo road and others."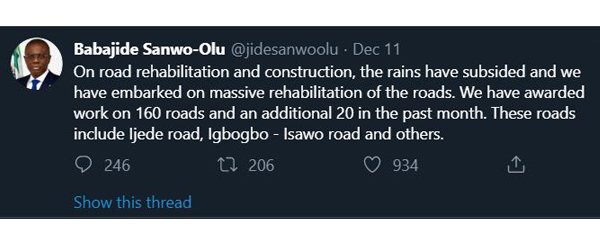 "We've committed a lot of resources to the Lagos-Badagry Expressway and work is ongoing. The stretch the State government is handling will soon be completed", Sanwo-Olu said.
On the decongestion of Apapa, Governor Sanwo-Olu revealed that his administration has identified a trailer park that is going to take 6,000 trucks. According to him, the construction of the park will start in earnest. We are also working with the NPA and the Nigerian Shipper's Council for a long-lasting solution.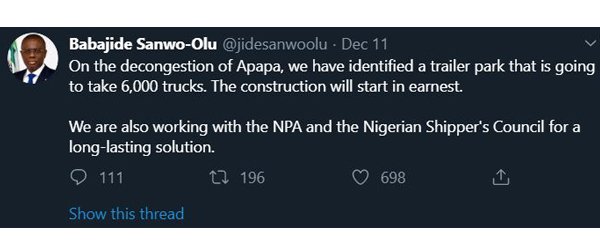 The Lagos State Governor further stated that his administration will continue to carry everyone along on the journey to a greater Lagos.
Recall that, in October, Gov. Babajide Sanwo-Olu declared a state of emergency on road construction and rehabilitation across Lagos State. The Governor declared the state of emergency during a meeting with road construction contractors.