This Spot In Benin-City Has Been Suffering Flooding For Almost 3 Decades (PHOTOS)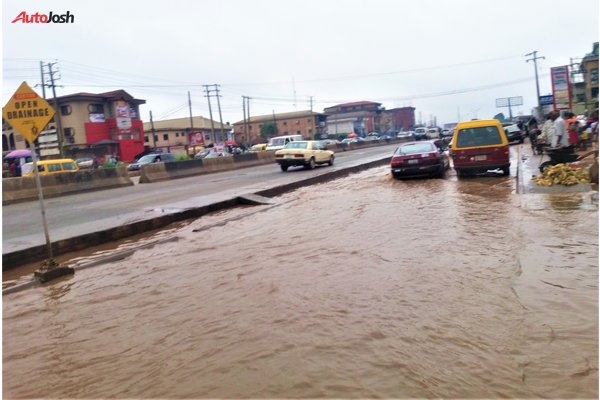 Adolor Junction is a major bus stop along the Ugbowo-Uselu road in Benin City, the Edo state capital.
Over the years, Adolor junction has become notorious for flooding whenever it rains. When it rains, Adolor junction accumulates non-flowing floodwaters.
Flooding at Adolor junction dates as far back as close to three decades.
In 2013, the Federal Government reconstructed the Uselu-Ugbowo road. It was generally expected that this intervention effort would bring to an end the flooding at the Adolor junction. Unfortunately, the design of the reconstructed expressway placed sections of the road at unequal levels. This did little to end the decades of flooding at Adolor junction.
Flooding affects many parts of Benin City. The effects are mostly felt in Oredo and Ikpoba Okha where improper waste disposal and lack of functional drainages accentuates the impact of heavy rainfalls and worsen the flood situation.
Flooding in Benin City area is also influenced by the flat and tableland nature of the area with a high water table.
Deaths, from drowning, have been recorded at the popular Adolor junction in Benin City.
Adolor junction is in Egor Local Government Area of Edo state.