Toyota And Nintendo Collaborate To Make The Ultimate Gaming SUV In This Custom 2024 Grand Highlander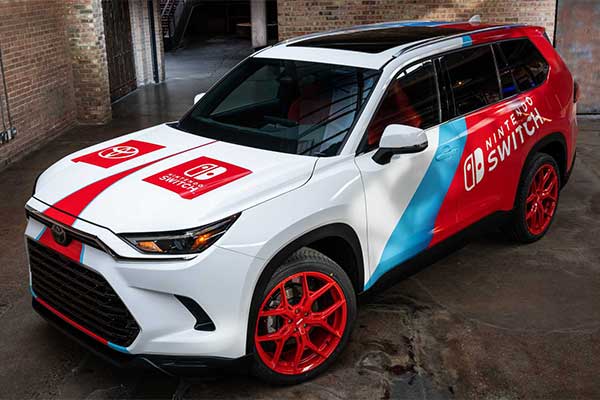 Toyota is announcing a giveaway in which 500 Grand Highlander buyers will receive a Nintendo Switch-OLED model and a Mario Kart 8 Deluxe game. If the kids somehow aren't reading about it on social media, they're learning about it at the Chicago Auto Show.
The unusual partnership marks Nintendo's second automaker collaboration involving Mario Kart 8, which previously introduced three Mercedes-Benz vehicles, the GLA, W 25 Silver Arrow, and 300 SL Roadster back in 2014.
The latest mainline Mario Kart game will be pushing ten in just a few months, but its 2017 Deluxe rerelease for the Switch is still supported by Nintendo, as the Japanese company is currently in the process of rolling out a massive 48-track expansion. According to the latest available info, Mario Kart 8 Deluxe Booster Course Pack wave 4 DLC will be launching in spring.
"This is an amazing collaboration between Toyota and Nintendo," said Lisa Materazzo, group vice president of Toyota Marketing. "The Grand Highlander and the Nintendo Switch are the ultimate duo for families and road trips."
It's an unmissable experience for children, and it's not surprising if they start convincing their parents that they need this giant Toyota. Of course, you can buy the toy separately, but the experience is not the same, so there will definitely be parents who try this "toy car".
Powering Grand Highlander is a 2.4-liter turbo-4, a hybrid with a 2.5-liter 4-cylinder, or a Hybrid Max spitting out 362 hp and 400 lb-ft of torque.
The Hybrid Max will come standard with all-wheel drive, and performance estimates include a 0-60 mph time of 6.3 seconds and a maximum towing capacity of 5,000 pounds.