Roush Gives The Standard Ford F-150 V8 A Raptor Treatment With Over 700 Hp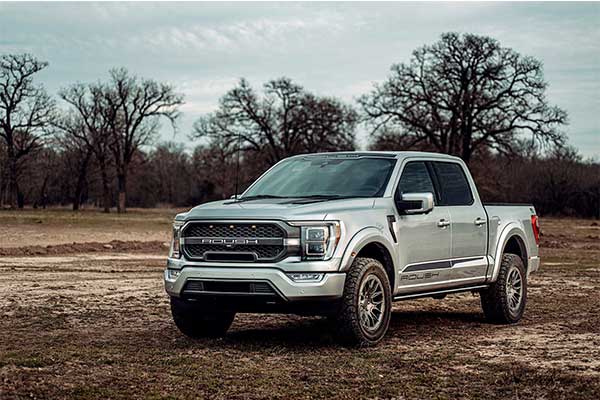 Roush Performance has released its supercharger kit for V8-powered 2021-2023 Ford F-150 pickup trucks, bringing total output to an impressive 705 horsepower and 635 lb-ft of torque. Those figures represent increases of 305 hp and 225 lb-ft over stock. It is also 5 hp more than the Raptor
While those numbers are assuming a 20 percent drivetrain loss, they're still incredibly impressive. That's not far from the 17 percent loss documented on the Raptor R. Roush pulls off this feat with a comprehensive package including a 2.65-liter supercharger, a low-temperature radiator, a billet-aluminum viscous crankshaft dampener, and unique spark plugs optimized for forced induction.
Note that installation difficulty is titled as "advanced," so DIY tinkerers will need at least 16 hours and some specific garage tools for fiddling with the engine and supercharger themselves. There is always the option of a dealership installation, of course, so that customers can swiftly and safely enjoy the additional 305 ponies.
The kit costs $8,649.99 and includes all the hardware you need to install it. You also get an in-house three-year/36,000-mile limited powertrain warranty when the kit is installed by a Ford dealer or a certified Automotive Service Excellence technician.
That covers the performance side, but if you'd like to spend even more, Roush offers a comprehensive range of aftermarket aesthetic upgrades. The tuner recently added to its offering by releasing a performance exhaust and a coilover suspension kit too, so you can cover every aspect of upgrading your F-150 in one place.