Toyota Set To Add Capstone Luxury Trim To The Tundra Lineup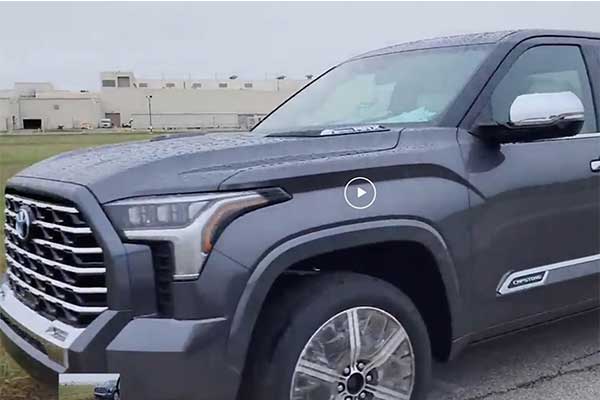 Toyota seems not to be done yet with the Tundra as a new luxury version has been leaked online called Capstone. The Japanese automaker filed the patent for the Capstone trim back in May last year and from all indications, it will sit above the Limited trim.
The photos have been long deleted and it is possible that a Toyota employee leaked the images. Some smart guys screenshot the photos and from the 1st impression, it really oozes luxury. The Capstone trim is covered with plenty of chrome than the Limited and has a more elegant appearance than the rugged TRD Pro specification. It will only be available in the CrewMax variant and will be family-oriented which of course makes a lot of sense since the aim is luxury.
Since this model in particular is wearing an i-Force MAX badge, that means it's a hybrid. That may not mean anything for Capstone; the trim could very well be offered on both the gasoline and hybrid variants of Toyota's redesigned pickup. Just a little reminder that the i-Force Max is a twin-turbo 3.5-litre V6 engine working with an electric motor for a combined output of 437 hp and 583 lb-ft.
Pretty much Toyota's response to the Ford F-150 Limited and the GMC Sierra Denali, the upcoming Capstone could be priced in the ballpark of $70k, give or take a few hard-earned grand.