Toyota Thinks About The Moon As They Showcase The Lunar Cruiser EV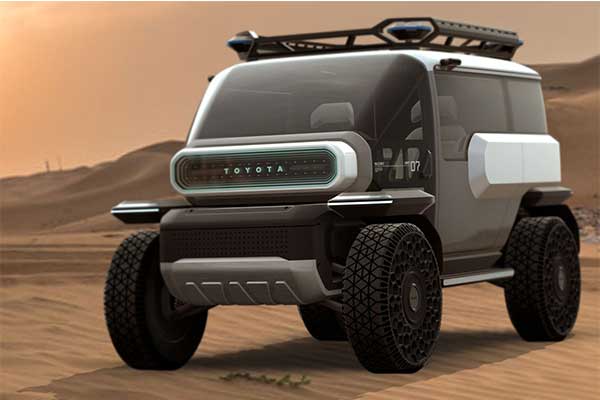 Toyota's design department released the first photos of a very remarkable study model. This is the Toyota Baby Lunar Cruiser, an off-roader with Land Cruiser details that, according to Toyota, should be able to handle not only on Earth but also on the moon.
Toyota recently hinted at the arrival of a small off-roader. Just like the new Land Cruiser (Prado), that car would be overloaded with retro accents and could easily have a fully electric drivetrain. The American side of Toyota's international design department is celebrating its 50th anniversary with this Baby Lunar Cruiser. We also see elements of Land Cruisers of yesteryear in the design of that show car, including the FJ40.
What does the 'Lunar' part of the Baby Lunar Cruiser's name mean? Well now. According to Toyota's American design department CALTY Design Research, the Baby Lunar Cruiser was created to conquer 'rough terrain on Earth and beyond'. Not just jolly marketing talk, of course, but it is certain that the concept car appears adventurous. The Toyota Baby Lunar Cruiser has an electric motor in each wheel and can be controlled by two joysticks. It has airless tires, is quite compact, and has large windows that should allow good all-round visibility. The panel in the front of the adventurous Toyota, reminiscent of the grille of the FJ40 – on which the historically responsible Toyota brand name is written – contains an arsenal of cameras, lidars, and radars.
Are there production plans? Not directly, but you can bet that Toyota hopes to warm up the mood for the arrival of a smaller Land Cruiser alternative with this Baby Lunar Cruiser.