United Nigeria Airlines Commences Operations Today With Inaugural Flight To Enugu (PHOTOS)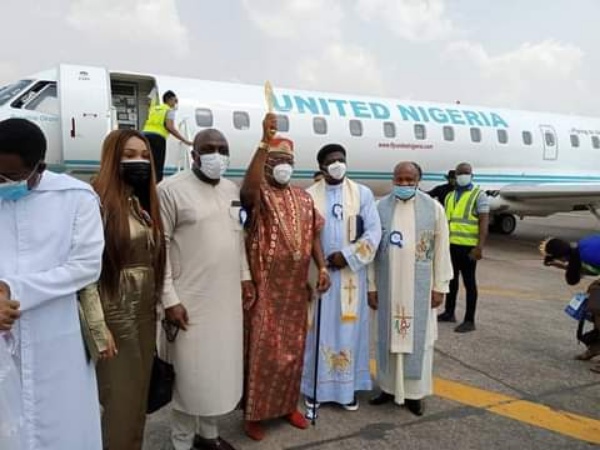 Nigeria's newest airline United Nigeria airlines commence operations today with inaugural flight from MMIA, in Lagos to Akanu Ibiam airport, in Enugu State.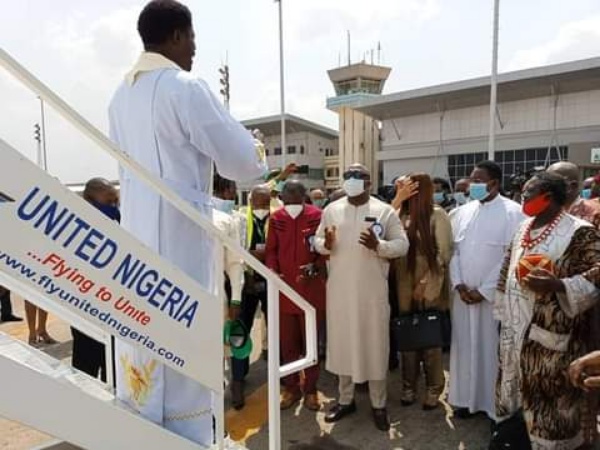 Nigeria's latest airline, United Nigeria Airline, commences operations today, Friday, Feb. 12, after the arrival of the airline's maiden flight at the Akanu Ibiam International Airport Enugu.
The inaugural flight aboard the airline's EMB145 aircraft marked 5N-BWZ, took-off from the domestic wing of the Murtala Muhammed International Airport (MM2) Ikeja, Lagos State, and landed safely at Asaba at exactly 11.40 am.
The commencement of operation followed the issuance of an Air Operators Certificate (AOC) to United Nigeria by the Nigerian Civil Aviation Authority (NCAA), having fulfilled all mandatory regulatory requirements.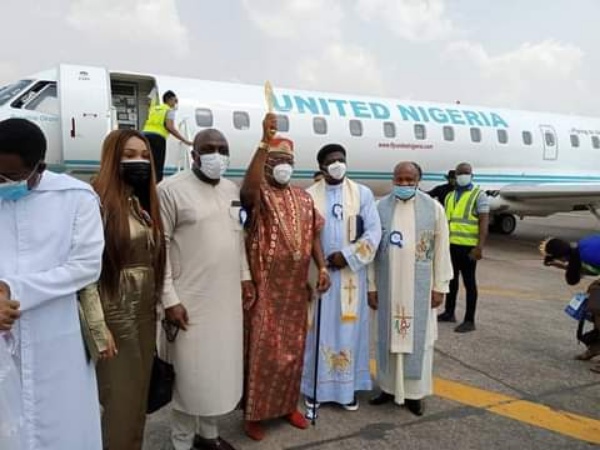 The airline said regular daily flight operations to Lagos, Abuja, Asaba, Enugu airports would commence immediately while Owerri and Port Harcourt will follow shortly.
According to the Head of Corporate Communications of United Nigeria Airline, Mr Achilleus-Chud Uchegbu, the Enugu-based airline will operate scheduled daily flights to Lagos, Abuja, Asaba, Enugu airports. It will also spread its wings to Owerri and Port Harcourt very soon.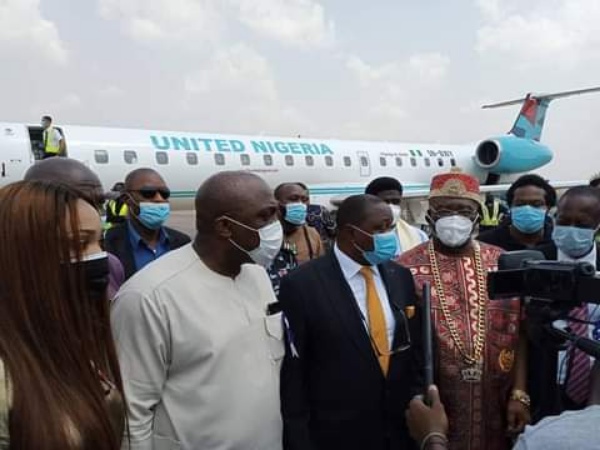 "United Nigeria will fly Lagos-Abuja at 6.45 a.m. daily; Abuja-Lagos at 8.15 a.m. daily; Lagos-Asaba at 9.45 a.m. daily; Asaba-Abuja at 11.15 a.m. daily; Abuja- Asaba at 12.45 p.m. daily and Asaba-Lagos at 2.15 p.m. daily.
"It will also operate Lagos-Enugu at 7.00 a.m. daily; Enugu-Abuja at 8.30 a.m. daily; Abuja-Enugu at 10.00 a.m. daily and Enugu-Lagos at 11.30 a.m. daily," he said.
Private Airlines Services Ltd. (Operators of United Nigeria) is a wholly Nigerian company incorporated under the Companies and Allied Matters Act of 1990. The Corporate Affairs Commission in charge would offer commercial air transportation services under the registered tradename; United Nigeria.