See How Hoodlums Vandalized Man's Ford Edge In Ilorin (PHOTOS/VIDEO)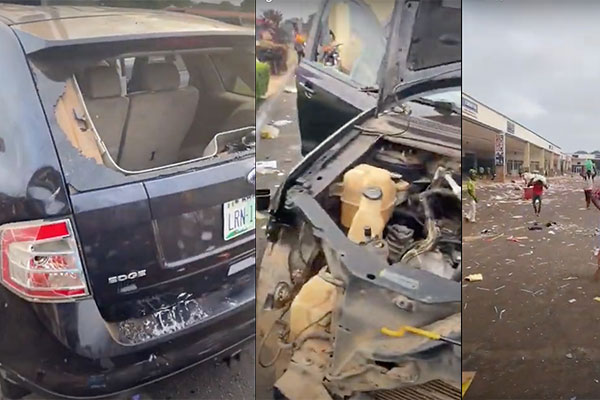 A man yet to be identified has recounted how hoodlums disassembled his Ford Edge SUV in Ilorin. He made this known via a short video he took round the parked but looted SUV. According to him, he parked the Ford Edge in front of a mall which hoodlums eventually looted in the state.
Reports had it that, as hoodlums hijacked #EndSARS protest in other states of the Federation, the same was the case in Ilorin.
Some suspected hoodlums allegedly looted Palms Mall on Fate Road, Ilorin, Kwara State capital. The mall host stores like Shoprite, and Lifemate Furniture among other stores including mobile phone stores.
Video Of The Vandalized Ford Edge
An eye-witness said, "They allegedly stole iPhone 11 mobile sets, other mobile sets brands, refrigerators, and household items amongst others."
According to a witness' account, the suspected hoodlums forced their way into the Mall. This is after they have stormed and allegedly looted Kwara Agro Hall, an agro resettlement centre. This was where they carted away aluminum roofing sheets, mattresses, bags of cement, and bags of flour among others.
Similar incidents had occurred in Lagos when suspected hoodlums looted at Shoprite Malls across Surulere, Sangotedo.
The alleged looters carted away with a cartload of goods on the streets along Ajah Road.
An eyewitness account also submitted that the hoodlums looted shops around Bode Thomas and Adeniran Ogunsanya.
The vandalized Ford Edge is a five-passenger car that is a comfortable, quick, and smooth-riding mid-size crossover SUV.