Vehicle Importers Raises Alarm As Syndicate Stealing "Catalytic Converters" Besieged Lagos RoRo Terminals
Vehicle importers raises alarm as syndicate stealing "Catalytic Converters" besieged Lagos RoRo Terminals.
Catalytic Converters helps to reduce harmful substances in exhaust fumes and reduces fuel consumption in cars.
Catalytic Converters cost as high as N450,000 in the market, while the cheapest catalyst costs N25,000.
Vehicle importers and clearing agents have raised alarm as syndicate that specializes in stealing Catalytic Converters from imported vehicles besieged Lagos RoRo ports and bonded terminals.
Catalytic Converters, a components of a vehicle exhaust system, helps to reduce the percentage of harmful substances in exhaust fumes and reduces fuel consumption in cars.
Reports showed that some vehicle catalyst costs are as high as N450,000 in the market, while the cheapest catalyst costs N25,000.
According to DAILY Trend, a licensed customs agents, who raised an alarm, said that the act is being perpetrated by hired drivers who convey vehicles from the port to the bonded terminals.
The drivers usually park the vehicle at a secret spot en route to their destination, while the rest of the criminal team removes the catalyst and sells it to an already available market.
A frontline importer, Edward Agim told our correspondent that there is a cartel that specializes in buying stolen vehicle catalysts.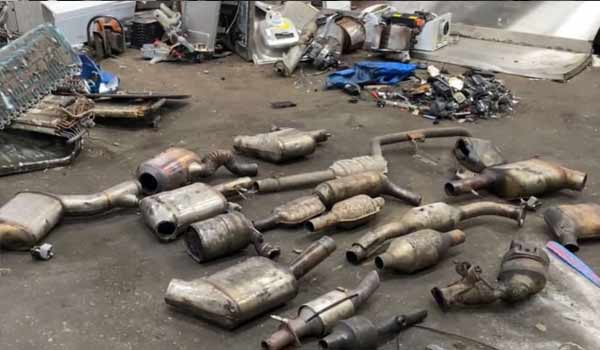 According to him, whenever the drivers are caught in the act, they never confess the names or locations of their buyers and sponsors, adding that the kingpins quickly come forward to bail them out since the act itself is a bailable offense.
Speaking with DAILY Trend, a licensed customs agent, Mr. Saliu Remilekun alleged that, as a result of this dastardly act of vandalization, a vehicle Bonded Terminal, a RoRo terminal at Alakija area of Lagos recently sacked all its drivers.
According to him, the drivers allegedly park vehicles at Oluti along Old Ojo Road in Alakija, and they start removing catalyst and other parts of vehicles.
Remilekun advised importers who transferred their vehicles by road to ensure that they take a picture of the driver and take his name and phone number.
He also advised that, for vehicles that are transferred through barges, before taking delivery, importers and agents should take make a thorough inspection before coming out of the terminal.
Speaking, he said "The only way to curb this issue of catalyst is to ensure we announce the terminal publicly by making sure their security measures are taken"
"I was so shocked when I received the information again this morning, I want our people to know and ensure they take a proper inspection on their vehicles before delivery.
"The funniest thing is that, when such things happen, the terminal will insist that, that was how they received the vehicle into their terminal with proof knowing fully well that their drivers must have stolen the parts on transit"
Remilekun claimed that the Terminals (names withheld) have been inundated with complaints from agents who had on Monday sacked all the drivers working for the company.
"Presently, it is the main staff of the terminal that are transferring the vehicles by themselves pending when they would employ other drivers," he said
On his part, Barrister Michael Ovien while reacting to another case of catalyst allegedly removed from a vehicle at Five Star Logistics Terminal at Tin Can Island Port, stated that importers now remove the catalyst of their vehicles before shipping them down to Nigeria.
He said "Agents should contact their importer for clarification on shipment. It happened to me and when I asked my importer, he confess to it, that he was the one that removed it before shipping to Nigeria"
Also See: Buy and sell cars faster on Carmart NG