Volkswagen Celebrates Its 150 millionth Vehicle,A Golf GTE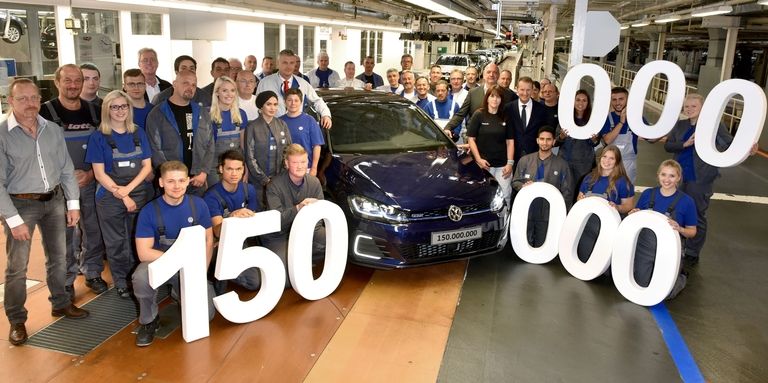 Anniversary car is a Golf GTE
Volkswagen just built its 150 millionth vehicle,a blue hybrid Golf GTE made in its Wolfsburg plan.It took Volkswagen 80 years to achieve the milestone.Since the company was founded in 1937,it has built vehicles at more than 50 sites in 14 countries around the world.
Perhaps it's appropriate that the landmark car was a plug-in hybrid VW Golf GTE: A sign of the future for the company.
Series production of the Beetle,which started out as the KdF-Wagen,only began in 1945 once the war was over and the Wolfsburg factory was completed.Within ten years,one million vehicles left the assembly line,and the Beetle went on to become one of the most successful vehicles of all time.In total,21.5 million original Beetles were built before production ended in Mexico in 2003.The Beetle remained the world's bestselling single model until it was overtaken by the Golf in June 2002.
What's even more interesting is that the 100 millionth Volkswagen,a Touran with a 1.9-liter TDI,was built in May 2005.That means VW only needed 12 years to sell one third of its entire production since 1937.
Apart from the Beetle and the Golf,more than 20 million Passat,some 19.5 million Jetta and almost 17 million Polo have been produced.
A Golf GTE hybrid is a fitting symbol of where VW is at the moment,and where it needs to go to in order to see its 300 millionth vehicle drive off the line.
Credits: roadandtrack
See Related Post: 2017 Volkswagen Phideon: The Amazing VW You've Been Looking For (Photos)