2018 Toyota Camry Vs 2018 Honda Accord: Which Do You Prefer?
Good day Auto-philiacs,
Today we would be taking a comparison between two popular Japanese auto rival models. We would be looking at the battle between 2018 Toyota Camry and 2018 Honda Accord, comparing features that are either optional or available at top trim levels ..
2018 Toyota Camry
The new Camry (June 2017) went on a style rampage especially for the XSE and SE version giving it a Voltron or Bumble bee transformer look🤓 (me likey) on the front end with sharp angles at well calculated positions and crazy sporty feel at the rear end with spoilers and quad exhaust tips(for the XSE and SE v6 version).
LE and XLE version are more conservative and a lil too busy at the front end with too many horizontal bars on the front bumper.
There has been an improvement on the engine power with two engine types and a hybrid…a 2.5 litre 4-cylinder 8 speed that grunts 205 horses and 187 lb ft of torque yielding a fuel consumption average of 32mpg(that's good by Naija standards of "a conservative ride"), and a second engine 3.5litre v6 mated to an 8speed automatic shifter producing an amazing and first of a kind 301hp and 267lb ft of torque with mpg in high 20s…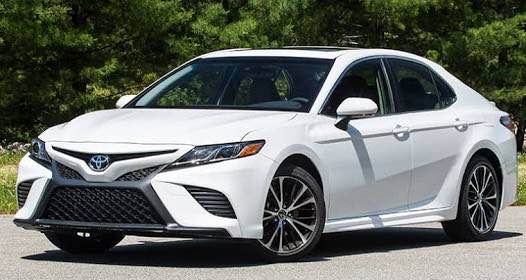 No turbo engines yet..
On the inside ..a red leather upholstery is available in a top trim level making it seemingly Lexus-like (the luxury older brother) with a cooler asymmetric dashboard design more stylish than the Accord.. Improved safety features such as the collision mitigation ,Adaptive cruise control ,lane assist ,automatic high beams which are controlled by the safety Sense P.
Although some auto-journalists say cruise control leaves too much space in between cars and pedal synchrony isn't smooth (it's gonna spill your coffee in the cup holder if left in control), we find it still useful present  than absent.
The infotainment system is still a lil bit confusing to use but more improved over the last generation as the Camry is one of the first models to use the Entune 3.0 suite,but unfortunately,still no android auto, no Apple car play ,no satellite radio, no embedded navigation ..at any trim level..
But you can now get a panoramic sunroof (lovely sky view —-stolen from the venza I guess). The driver's seat placement and adjustment is just awesome with great lumbar support ..Eco ,normal and sport modes of driving works well. Trunk space in the hybrid is now the same as non-hybrid models cos the battery packs are now under the back seats..and your 15.1 cubic feet trunk lid now pops all the way up and rear seats can be folded for extra trunk space…well done Toyota.
Now the driving experience is not so exciting but decent ,with a seemingly heavy but still responsive steering feel,stiffer suspension …which gives the ride more confidence in corners..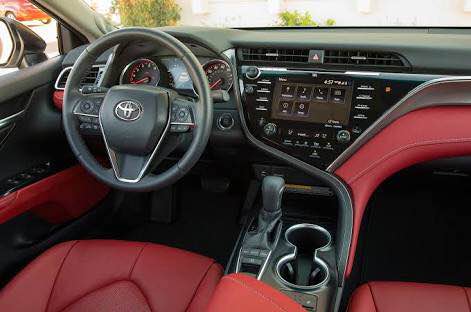 HONDA ACCORD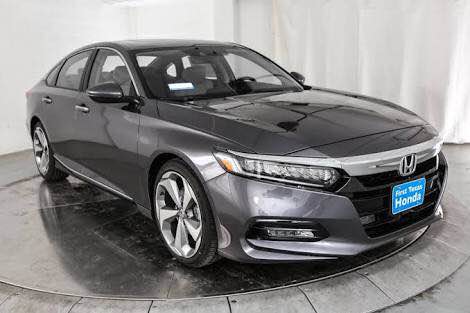 The 10th generation accord (released 14/07/2017) has a bolder look with vertical grills (looks like a Dodge Charger up front) and a bland boring backside with exceptionally beautiful hexagonal exhaust tips. The LEDs are just too cool to behold with the standard high beams on the touring version with the 19inch wheels sticking out like those of a Lamborghini.
The Honda sensing is now standard across all models which gives an accurate combination of cameras and radar system for driver assistance…these include low speed follow , lane departure mitigation,driver attention monitor ..
Adaptive cruise control is now smoother and more intuitive,braking and acceleration is smoother than in the Camry….you even pay extra to get driver assistance packages on the Camry.
Honda has gone all turbos with two engine choices..the smaller 1.5litre 4cylinder turbo 6speed Manual/CVT which breathes 192horses with same amount of torque…and the larger 2.0litre but still 4cylinder,with 10 speed automatic gear box…giving 252ponies and 273 pound ft of torque …both engines give and average of 33mpg combined…very efficient ..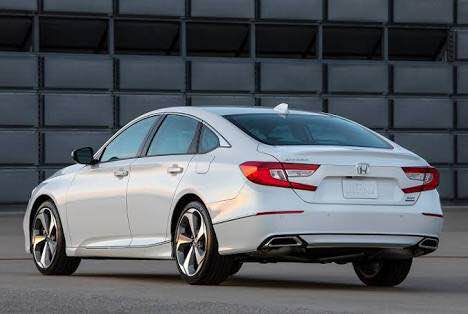 A lot of sound deadening effect has been added to make the ride so quiet and give that cruise effect mimicking a large size luxury sedan which include :-a noise reduction wheel design,overall weight reduction ,active noise cancellation…even the rubber along the doors make them slam with a reassuring effect.
On the inside ,materials are upscale ,design is simpler and not as expressive or stylish like the Camry. Some presumably fake wood here and there ,hard surfaces with no napper leather.
It has a new digital gauge cluster with a head-up display..
The seat feel is a lot better than in the 9th generation. There is also heated steering and heating rear seats,you don't get those in Camry on any trim level..
The infotainment system is more conservative, Honda has gotten rid of the dual screen design and brought back the volume knob(I hoped for it to return )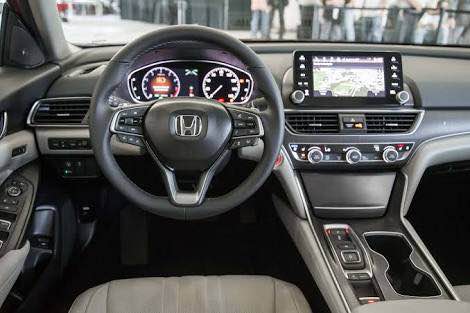 Apple car play ,android auto with NFC ,mobile hotspot capabilities coming with a 8inch screen and improved graphics that doesn't show finger prints but give a haptic feedback with each tap..
No panoramic roof on any trim,Honda claims it's not a feature of a mid-size family sedan. Other down sides are the severely angular rear glass which makes visibility reduced ,with small side rear glass close to the C-pillar..this creates a lot of blind spots….(that's probably a negative carry over from the Cross tour)
Well, On the bright side you get paddle shifters ,heated and cooled from seats and an overall bigger volume than the Camry…about 3inches more.
You even get a bigger trunk space ,16.7cubic feet,to haul ur luggage on family vacation .
The driving experience is cool too, auto-journalists claim the 2.0 liter 4cylinder is quieter and equally as fast as the V6 version of the Camry especially in the sport mode. No coupes for this generation yet and we still expect a V6 in the future…drivers prefer to stick to the automatic tranny…the manual doesn't seem cool at all.
The verdict
You have read it all, it all depends on you…choose wisely