Checkout The Lamborghini Urus Rescue Vehicle That Is Built To Save The Rich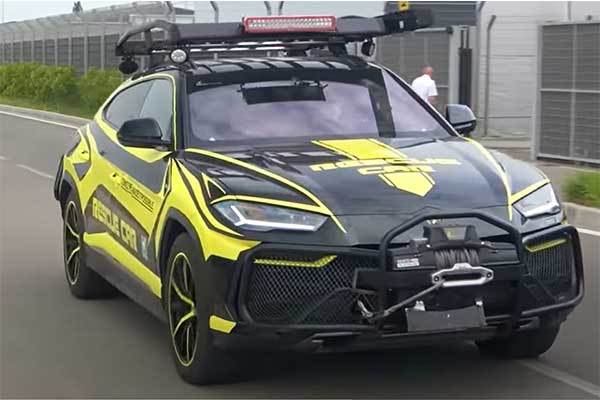 Lamborghini is very serious about its Urus SUV  as it's fast and powerful but not really an offroad beast but that has changed with the modified Urus Rescue vehicle that looks badass and very capable.
First spotted back in February when the Huracan Sterrato prototype was being tested in Sweden, this black and yellow Urus has evaded professional car spotters for ages, but now we can finally get a good look at it.
Obvious modifications include a full steel front bumper that features a power winch and mesh inserts ahead of the front intake vents. The rear end also features a steel bumper with a mounting rack for a spare wheel and an A-frame tow hitch which could potentially be used to tow crashed Huracans out of snow banks. The roof rack is also a serious bit of kit and features forward and rear-facing spotlights. Other features include new side mirrors that double the standard ones. There's also a sturdy spare wheel mount and a tow hook in the rear.
We don't know if there are any changes under the hood, in which case this Urus is also powered by a 4.0-liter twin-turbo V8 engine that produces 641 hp and 627 lb-ft (850 Nm) of torque. Eight-speed automatic transmission and all-wheel-drive should also be part of the equipment list.
The Urus has been a huge sales success for Lamborghini, with 20,000 units sold in only four years. SUVs have shown to be a popular choice for customers, especially in the realm of supercars.