See What Fashola Is Doing At Lokoja-Benin Expressway (PHOTOS)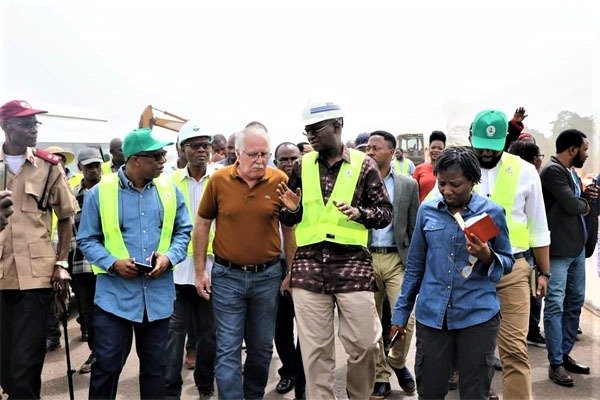 Earlier today, the Honourable Minister of Works and Housing, Babatunde Raji Fashola (SAN) was at the Lokoja-Benin expressway.
The Minister was there to inspect on-going rehabilitation work on the busy expressway that links Kogi State to Edo State.
While on the tour, the Minister  inspected the Dualization work on the highway, specifically the Lokoja-Benin Expressway, Section III, Auchi – Ehor  (Ewu Hill Section) in Edo State,
The project has Contract No. 6137 (Sukuk Project).
The ministerial tour also extended to the Dualization of Lokoja–Benin expressway, Obajiana Junction–Benin City, Section IV, Ehor–Benin City in Edo State. This stretch is under Contract No. 6138 (Sukuk Project).
Recall that, last December, Fashola ordered contractors and the federal controllers of works in Edo and Kogi States to ensure the completion of one of the two alignments of the road latest by June 2020.
Messrs RCC Nigeria Limited is the firm undertaking the rehabilitation work on that expressway.
This rehabilitation work is part of the current government massive rehabilitation of major highways connecting states in the North- Central zone of the country.
According to Fashola, President Muhammadu Buhari administration is committed to the completion of the project. This is owing to its importance to the people and economies of the two states.
The Goodluck Jonathan-led administration awarded the contract for rehabilitation work on the Lokoja-Benin expressway in 2012. The then Federal Government approved N65.2 billion for the construction of the four sections of the Lokoja-Okene-Benin Road.
Fashola was accompanied on the inspection tour by staff of the Ministry of Works and Housing. Also on the tour were some members of the Press.