Ford Bronco Lineup Expands Further With The Launch Of Tougher Everglades Model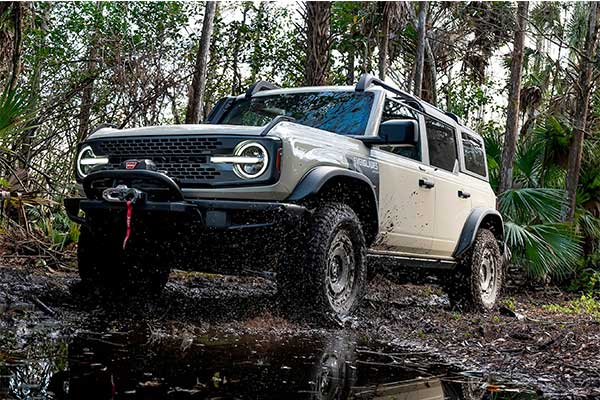 After launching the Raptor some weeks ago, the Blue Oval isn't done with the Bronco lineup as a new and tougher Everglades model has been unveiled at the ongoing Chicago Motor Show. From the looks, this model is made for the swamp and other terrible terrains you throw at it.
Two keys upgrades made to the Bronco Everglades immediately make it stand out from other Bronco models. The first new feature is a snorkel that Ford designed and engineered in-house which includes easy-to-swap plates that alter the direction of the inlet. Complementing the snorkel are raised vents for the front and rear axles, transfer case, and transmission, meaning the Bronco Everglades can ford water that is 36.4-inches (924 mm) deep. By comparison, standard Bronco models have 33.5-inches (851 mm) of fording ability.
"Bronco customers like to explore new places, but some want to go even further off the trail than others," said Jolanta Coffey, Bronco chief engineer. "Everglades is specially equipped to enable these customers to tackle even more challenging terrains and trails – and with the front bumper-mounted winch, they can help others out of trouble while they're at it."
The Everglades also sports unique fender flares with a less-rounded design, along with rock rails, a roof rack with crossbars, a small bull bar, and the same steel bash plates found on the Bronco's Black Diamond and Badlands grades. Inside, the designers have gone with marine-grade vinyl seat trim and rubber flooring to help make cleaning a breeze.
Powering the Bronco Everglades is the same turbocharged 2.3-liter EcoBoost engine used throughout the range, good for 300 horsepower (223 kilowatts) and 325 pound-feet (440 newton-meters), paired to a 10-speed automatic transmission. As with all other Broncos, the Everglades uses the G.O.A.T drive modes and comes with standard four-wheel drive.