Ford To Issue $2500 To Bronco Buyers To Change Their Orders From Top Trim Models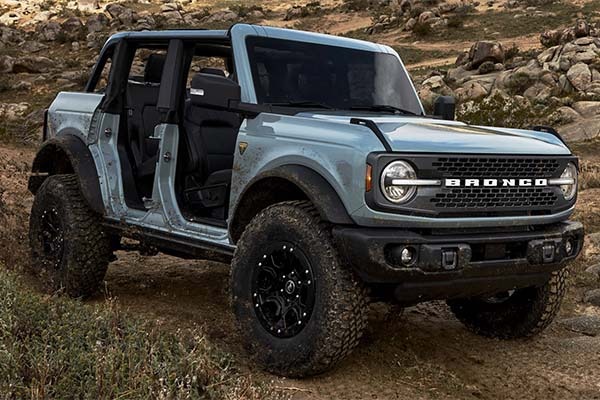 Ford's supply chain constraints are forcing the automaker to get creative about Bronco sales. Ford is giving $2,500 in discounts to Bronco buyers who agree to cancel their original orders and place new orders on Bronco trims that work around Ford's current lack of supply.
According to Bronco Nation, the credit is part of the '23MY Bronco Modification Private Offer Program. Customers are eligible for the credit if they have an existing Bronco order and agree to one of the following modifications:
Four-door Wildtrak customers switch to a Big Bend, Outer Banks, or Badlands without a Molded-in Color (MIC) hardtop
Two or four-door Wildtrak customers switch to a Sasquatch or Lux package
Four-door customers remove the MIC hardtop, along with the Sasquatch, and Lux packages
Customers with a four-door Bronco on order also cannot switch to a two-door to retain the hard top option. Currently, orders for 2023 model-year Broncos with special edition packages like the Heritage, Heritage Limited, Everglades, or Raptor are not eligible to claim this offer.
Reservation holders ready to give up on the Bronco will save $2,500 on any new order — not dealer inventory — of most 2023-model-year trims of the Bronco Sport, Edge, Escape, Expedition, Explorer, F-150, or Ranger. The F-150 Tremor and Rattler are among the trims excluded from the offer.
Buyers can still choose to simply do nothing. However, Ford warns that they not only risk further-delayed delivery of their Bronco but that they may also miss out on the $2,500 incentive.
This isn't the first time that Ford has tried to appease Bronco buyers. In 2021, the automaker set up a "satisfaction fund" for angsty customers and advised dealers to give them booze and branded merchandise. And in a world where production delays are still running rampant, it may not be the last.