Genesis Gives Itself A Pat On The Back As They Deliver Over A Million Cars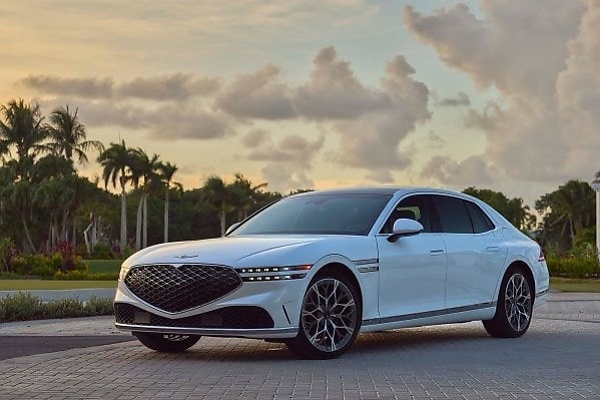 Since 2015 we have known that Genesis, previously a model name of Hyundai, is a brand. Genesis is to Hyundai and Kia what Lexus is to Toyota and Audi is to Volkswagen: the 'premium alternative'. We already learned that Genesis takes that task seriously when we became extensively acquainted with the Genesis G80 Electrified.
The G80, a 5-series sedan, has also proven to be the most popular Genesis worldwide. That is quite striking because the brand has plenty of SUVs in the lineup. The range currently consists of the following models, to which we always place a BMW alternative to clarify the positioning: G70 (3 series), G80 (5 series), GV70 (X3), GV80 (X5), and G90 ( 7 series). Then there is also the GV60, a stubborn-looking luxury alternative to the Hyundai Ioniq 5 and Kia EV6 with which it shares its platform. Or, to stay in BMW terms: an alternative to the iX1, but a 'dedicated' EV. The GV80 Coupé will be available this year(X6) to the lineup simultaneously with a facelift for the G80, and Genesis promises an all-new model in an all-new segment in the near future. The future of the compact G70 is less rosy: that car will be retired after just one generation.
In total, Genesis sold 1,008,804 cars up to and including the writing of the press release. 690,177 of these were registered in their home country of South Korea, and the rest (318,627) elsewhere. Then we immediately know that there is still plenty of growth potential outside Korea. Genesis is also active in Europe but is initially limited to Germany, Switzerland, and the UK. The rest will follow, but first, we will carefully look at what the best attack route is for each country. From 2025, only electric models will be released worldwide at Genesis, although the fuel models that have already been introduced will continue to be sold until 2030.
Genesis also has quite a few EVs in its range: in addition to the always-electric GV60, there are also electric versions of the G80 and GV70. Competitors for BMW's i5 and iX3, respectively.