Footage Of Nigeria Bound Cars That Got Burnt On Hoegh Xiamen Vessel Emerge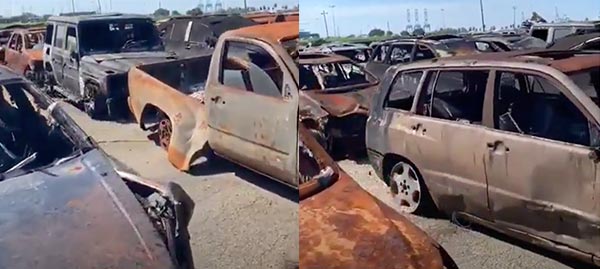 A few weeks ago, a massive automotive cargo ship, named Hoegh Xiamen, went up in flames with about 2,000 used cars aboard at the Port of Jacksonville in Florida.
According to reports, the fire started on Thursday, June 4, on the seventh deck of the ship, but almost a week later, the fire was still burning.
A video of some burnt cars which were aboard the vessel has now surfaced. Sadly, some of these cars were headed for Nigeria.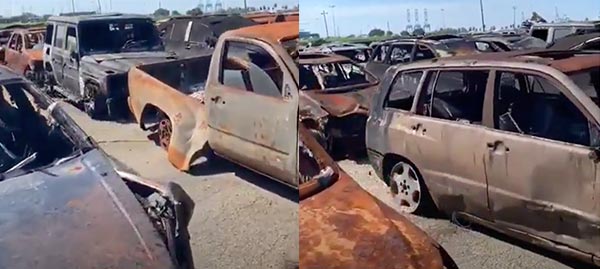 Renee5star posted the video on her social media page. The video showcased how the fire destroyed the cars which were set to sail to West Africa and Nigeria.
The 600ft RoRo Hoegh Xiamen vessel was carrying a consignment of used cars intended for export to the West African market. The ship's most recent port call was Freeport, Texas while It's next scheduled stop was to be Baltimore, Maryland.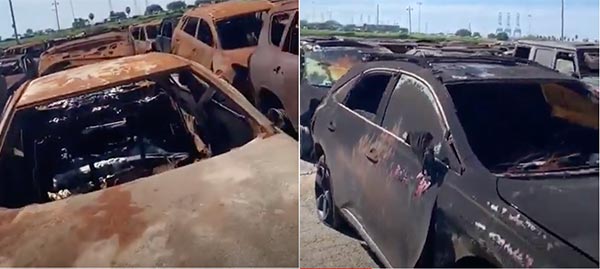 Reports had it that eight firefighters suffered injuries in the explosion aboard the car carrier Hoegh Xiamen (IMO 9431848). This happened at the Blount Island Marine Terminal in the Port of Jacksonville, Florida, during the afternoon of June 4th. Five of the firefighters were released, but three remained in the hospital more than 24 hours later with injuries.
VIDEO
Commenting on the incident, the vessel operator, Hoegh Autoliners said, the investigation showed that the ship's seventh deck was the source of the fire. This was shortly after the vessel completed loading operations.
The fire spread through several other levels up to the 11th deck and down to deck six. This was according to USCG Sector Jacksonville commander Captain Mark Vlaun.