See How Nigerian Man Modified A Honda Legend To Look Like A Batmobile (PHOTOS/VIDEO)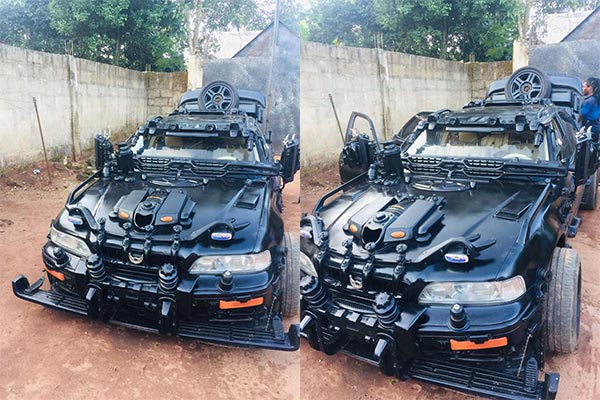 Nigeria is gifted with dynamic and dexterous talents across virtually all fields. In Imo state, another automobile guru has emerged. It is not enough to build cars, remodification and transformation is also an integral part of the auto industry. Dynamism and creativity can have their place in already built cars.
A talented Nigerian from Obohia Ahiazu Mbaise LGA, Imo state, has modified a Honda Legend into a Batmobile. His company, MacDeemobile, is based on rebranding cars to suit their clients' desire. They convert ordinary street cars into sporty looking, mad max, hot rods, death race and pimped cars. They also boast of interior and exterior customisations as well as total car restoration projects.
An automobile enthusiast, OLABEECEE, made this known on his page. He said, "Body modifications are done by a talented Nigerian from the Ala-Igbo, Mbaise, we are highly creative people, kindly share if you love what you see."
VIDEO
Also, we reported sometimes ago that a Nigerian Graduate, who is currently observing his National Youth Service Corps (NYSC) service year, Oladele Ogbeyemi rebuilt a Mazda 323 Metal Art using scrap metals and other waste materials.
Ogbeyemi, who graduated from Yaba College of Technology based in Lagos, says he saved his allowance for six months to be able to rebuild the car. "Instead of spending my allowance for daily upkeep which is the general norms for service corps members, I saved to achieve this design." He also noted that he achieved the design during the recent lockdown imposed by the country's government.
Reacting to the huge development, OLABEECEE, could not contain his joy. He gave kudos to the intellectual prowess of the talent. "just appreciate the talent and rt abeg." He said.
MacDeemobile can be contacted via 08034913617
VIDEO