Bentley Unveils New £160,000 Continental GT With A Revolving James Bond Inspired Three-Way Dashboard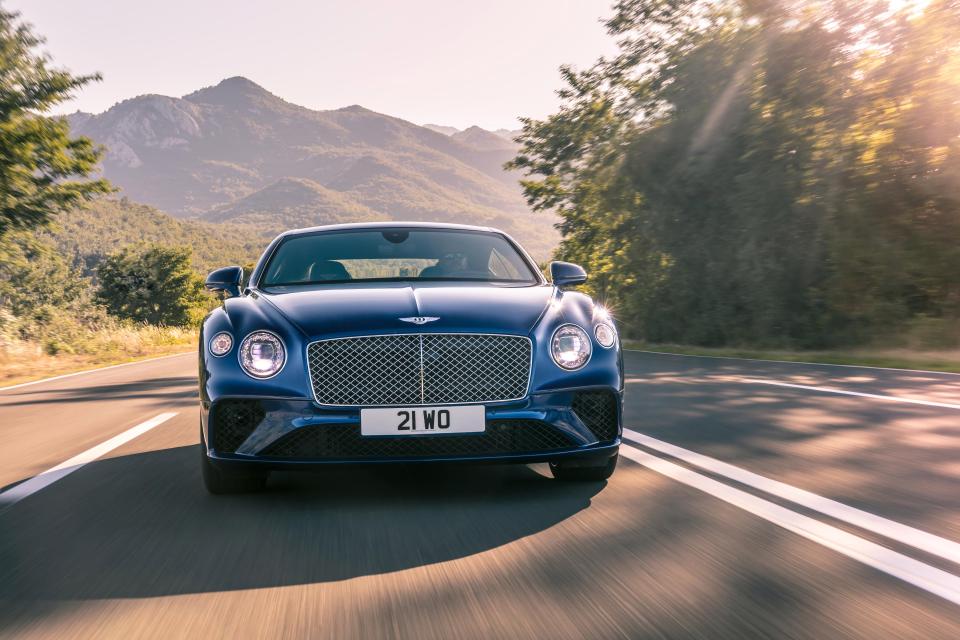 The most hi-tech Bentley ever has been launched with the world's first three-way rotating dashboard that takes its inspiration from James Bond's famous revolving number plate.
The main party trick is a three-way rotating dashboard that would look right at home in the next James Bond movie
https://m.youtube.com/watch?v=PCot-3Q5U9w
The triangular device embedded in the main console can be switched at the flick of a button to cycle through smooth wood veneer, a 12.3-inch display and analogue dials.
Inspiration for the clever kit comes from the rotating number-plate gadget made famous on 007's Aston Martin DB5 in Goldfinger.
It has 40 moving parts and uses two motors each with their own gearbox.
The rotating dash is just one element of the luxurious interior that also features a endless options list of veneers, crafted metalwork inspired by Swiss watches, leather trims and colours.
Under bonnet, the new Continental GT gets Bentley's 6.0-litre W12 producing 626bhp.
That's good enough for 0-60mph in 3.6 seconds and a stunning top speed of 207mph.
2018 Bentley Continental GT
Price: £160,000
Built: Crewe,England
On sale: now
First deliveries: Spring 2018
Length: 189 inches (4805mm) Width: 86.1 inches (2187mm) Height: 55.3mm (1405mm)
Weight: 2.244 tonnes (4947ibs)
Engine: 6.0 litre W12 turbo-charged TSI petrol
Power: 635 PS (626bhp)
Gears: 8-speed dual clutch automatic (with manual override)
Top speed: 207mph
0-60mph: 3.6 seconds
0-62mph (100km/hr): 3.7 seconds
Fuel efficiency: 23.2mpg
CO2 emissions: 278g/km
Wheels: 21 inch standard, 22 inch optional
Bentley's Dynamic Ride helps to make the Conti a sports car as well as long distance cruiser.
If you don't want to be racing everywhere, you'll be able to get 500 miles out of a tank and a part-time four wheel drive system helps to reduce emissions over its predecessor.
Prices are expected to start from around £160,000 with dealers already accepting deposits. It'll make its formal debut at the Frankfurt Motor Show in September.
First deliveries aren't expected until Spring 2018.
https://www.thesun.co.uk/motors/
See Related Post: Smuggled Bentley And Benz SUVs Seized By Nigerian Customs In Owerri (Photos)