Lady Mourns 7 Of Her Friends Killed In An Accident By An Alleged Drunk Yahoo Boy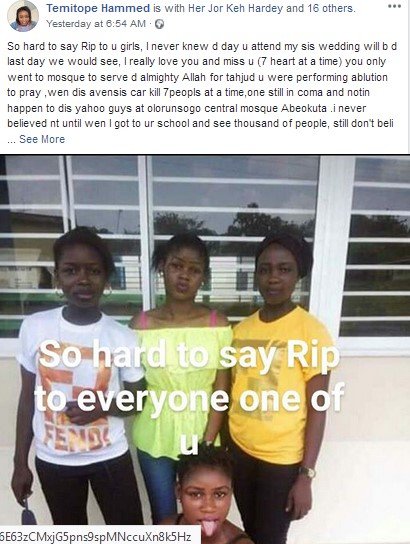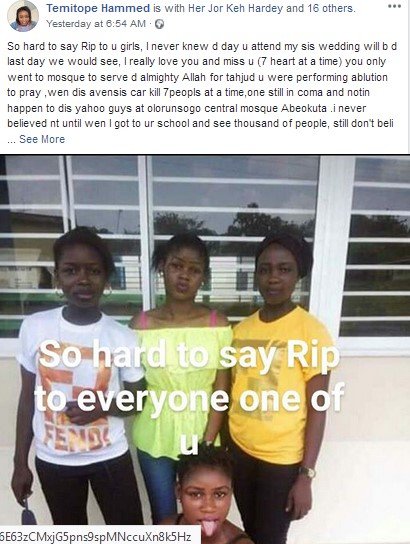 A lady with the name Temitope Hammed on Facebook painfully penned down how seven of her friends got killed by a drunk yahoo boy. In her story, the ladies were at the mosque performing ablution when the alleged drunk yahoo boy rammed them over in his Toyota Avensis.
please don't drink and drive. Don't cut people's life short!!!
Read her story on Facebook below;
So hard to say Rip to u girls, I never knew d day u attend my sis wedding will b d last day we would see, I really love you and miss u (7 heart at a time) you only went to mosque to serve d almighty Allah for tahjud u were performing ablution to pray ,wen dis avensis car kill 7peopls at a time,one still in coma and notin happen to dis yahoo guys at olorunsogo central mosque Abeokuta .i never believed nt until wen I got to ur school and see thousand of people, still don't believe wen Dey took us to were d accident happen nt until wen I got to Fmc idi aba abeokuta were I saw u girls dead, some in pieces. We called dis iku sheidih in Islam, may Allah grant u aljana fridauos and console we families dat dis happen to. Bt am sure insha Allah if those yahoo boys use u all for sacrifice, Dey will die in jail bcoz no single drop of blood where d accident happen. Bt Allah knows all. Rest in peace to u all