Lagos State Launches Newly Designed Articulated, Allied Vehicle Number Plate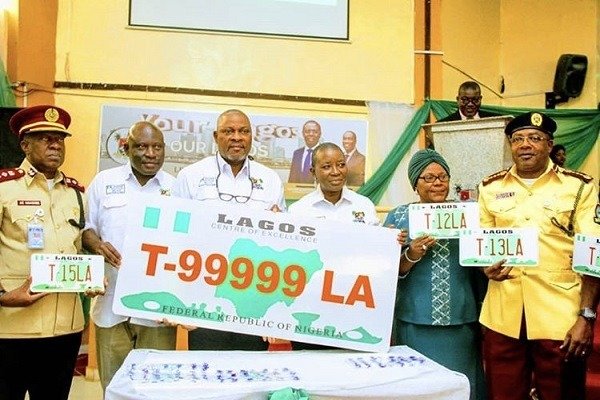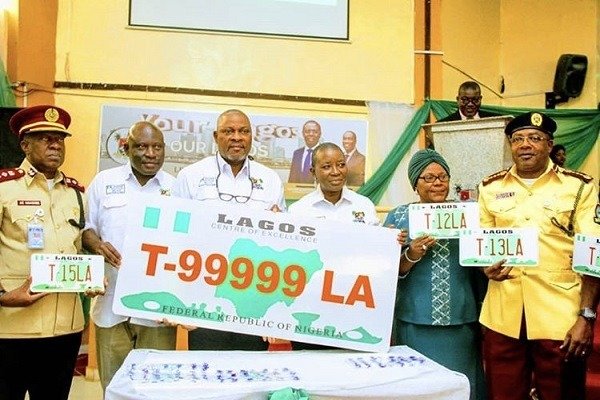 The Lagos State Ministry of Transportation, through the Motor Vehicle Administration Agency (MVAA), on Thursday launched the newly designed Articulated and Allied Vehicle Number Plate (AVNP).
According to Commissioner for Transportation, Dr. Frederic Oladeinde, the development is to further prioritise safe motoring measures for crime detection on Lagos roads. The major benefits of the initiative is the creation of a robust database for all articulated and heavy-duty vehicles, especially those that ply State roads.
The essence of the database is, therefore, to provide and share valuable information and data on an articulated vehicle with the law enforcement agencies, the Nigeria Police and the Vehicle Inspection Service (VIS) for safety and security as well as crime investigation and detection purposes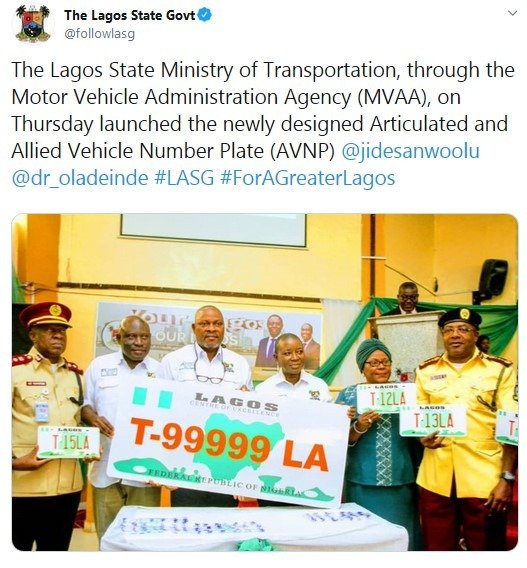 Because of this development, all new vehicles coming into the State through the Ports has to obtain the Temporary Vehicle Tag (TVT). This will serve as a means of identification for yet-to-be-fully registered, newly-acquired vehicles pending full registration. The issuance of this tag would be by Motor Vehicle Administration Agency (MVAA).
The new Articulated Vehicle Number Plate (AVNP) scheme is simple and user-friendly. There is seamless procedures for the issuance of the plates, and the price for the plates is affordable.
The General Manager, Lagos State Drivers' Institute (LASDRI), Mrs. Afusat Tiamiyu appealed to drivers to ensure that they upgrade their driving skills by enrolling at the Institute for training, stressing the Agency has skilled personnel who impart knowledge required for safe and precision driving.
Last year, the Lagos State government unveiled Automatic Number Plate Recognition (ANPR) to track traffic and vehicle documentation offenders.
What do you think about this Lagos newly designed Articulated and Allied Vehicle Number Plate?