LASTMA GM Visits Vandalized Zonal Offices Destroyed During EndSARS Riot (PHOTOS)
The General Manager of Lagos State Traffic Management Authority, LASTMA, Engr. Olajide Oduyoye, paid visits to the various Zonal offices affected by arson and looting during the violence resulting from the #EndSARS protests. LASTMA GM
The LASTMA boss went on the visits together with some management staff of the agency.
At the Zonal Head of Zone 7, the Ejigbo office, Oduyoye explained how hoodlums attacked the office. He also explained how they burnt various vehicles and office buildings while also looting various equipment used on duty.
Oduyoye also admonished the officers working in the Zone to stay focused on the job despite the setback. He let them know that the state government also feels the pain of all officers.
At the Agege office, housing Zones 6, 19, 29, and 35, the devastation was total. Vehicles, offices and equipment were completely vandalized and burnt. The Zonal Commander explained how the incident happened.
The GM LASTMA  also addressed the officers working in the zones affected. He encouraged them to remain steadfast and carry out their duties as best as possible as many Lagosians still require their help on the road. LASTMA GM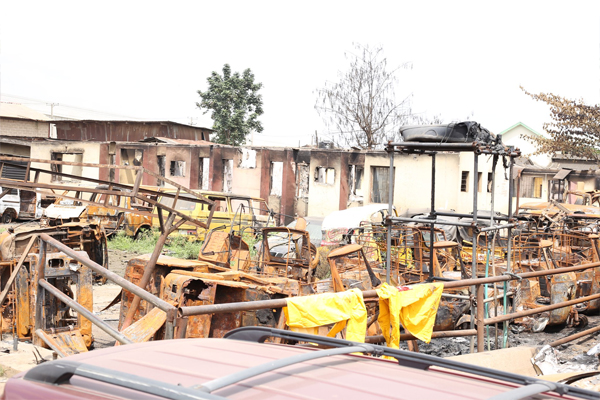 Nigerian youths embarked on a peaceful protest tagged #EndSARS. The protest was done to demand the disbandment of the Special Anti-Robbery Squad (SARS) unit. It was also done to demand for other reforms in the Nigerian Police Force (NPF). What started out as a peaceful demonstration by thousands of youths, degenerated into chaos after the protests were hijacked by hoodlums. LASTMA GM
The hijacked protest then spiraled into heavy presence of security personnel on the streets of Lagos, mob attacks on security personnel, killings, and vandalization of public and private properties. LASTMA GM
Lagos State Traffic Management Authority is a Lagos State-owned agency under the Ministry of Transportation. The agency was established on the 15th of July, 2000 to transform the state transportation system to ensure free flow of traffic in the state and also reduce road accidents