Linda Ikeji's Dad Poses With His Latest Toy, A Mercedes-AMG G63, As He Turns A Year Older
Linda Ikeji's sister, Laura shares a picture of her 70+ year old dad posing with his latest toy, a Mercedes-AMG G63 SUV, as he turns a year older.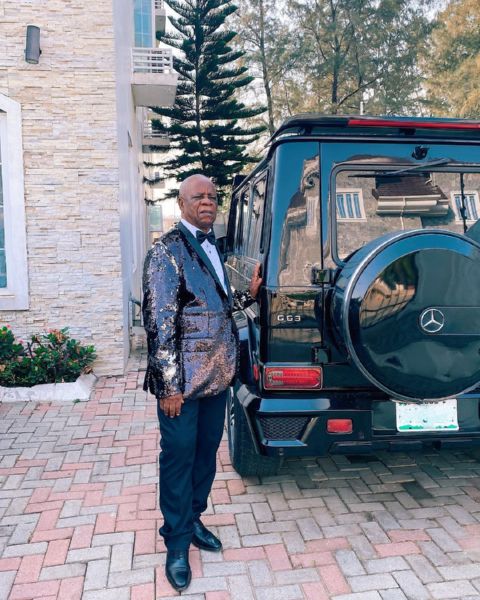 Laura Ikeji Kanu has shared a picture of her dad posing with his latest toy, a Mercedes-AMG G63, as the septuagenarian turns a year older this week.
Ahead of his birthday, Laura's dad had splashed millions on the sporty and more luxurious version of the celebrity favorite SUV, popularly known as a G-wagon.
Laura captioned her Instagram post, while wishing her dad a happy birthday, with :
"My dad and his latest toy. So happy for him. Happy birthday once again daddy. Love u"
The news of the acquisition was first shared by Laura's elder sister and celebrity blogger, Linda Ikeji on her Instagram page.
Linda, while advising her fans to enjoy themselves while still alive by doing things that will make them happy, explained that her dad caught "all his children by surprise" with his latest toy.
"One of the things I learnt from my dad is to always do what makes you happy…and to truly enjoy this life. I mean, he's in his 70s and he just bought himself a G-Wagon. 🙌 (caught all his children by surprise…lol) Swipe
Please enjoy your life. When it's all over, you're not coming back here for a part two! Happy Sunday! 😘"
The military-based German-made machine, known for its distinctive boxy shape, packs ultra-luxury features as well as an astonishing horsepower and strength.
Its ability to forge through any obstacles it encounters both on-road and off-road makes it a favorite amongst Nigerian celebrities.
The various variants of the SUV, including the G-Class and the more powerful G63, are one of the most popular vehicles on the road.