Mercedes-AMG EQS Caught Testing At The Nürburgring And Its Out For Blood (Photos)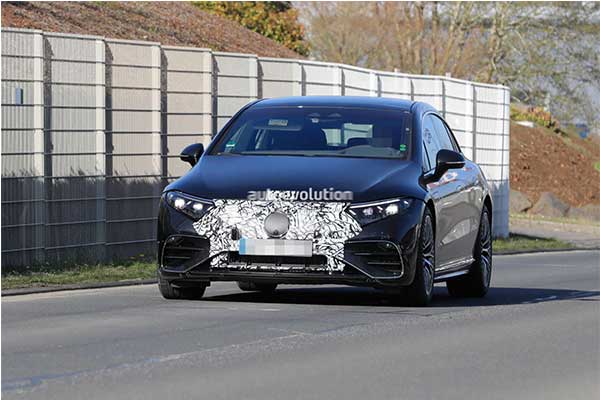 With the standard EQS recently launched, Mercedes isn't done yet as prototypes of the AMG EQS were seen testing at the Nurburgring. It seems Mercedes wants to take a bite out of the Porche Taycan Turbo S and the Tesla Model S Plaid from all indications. Although it's a little difficult to differentiate this from other models thanks to the camouflage, the automaker couldn't hide those big ceramic discs or those yellow brake callipers.
Not many details are known about the 2023 Mercedes-AMG EQS yet, but the Germans have already let it slip that it will have a total output of no less than 751 hp. Coincidentally, it is the same power achieved by the Porsche Taycan Turbo S in Overboost and Launch Control mode. It's not yet known if AMG engineers have simply replaced the two existing motors of the EQS with more powerful ones or if the model will feature a tri-motor set up to achieve that power, not unlike the Tesla Model S Plaid. Keep in mind Mercedes-AMG even has experience with a quad-motor setup from the short-lived SLS AMG Electric Drive, so anything is possible.
This future beast will be capable of doing 0 to 60 in less than 3 seconds making it the 2nd fastest production Mercedes in history. The upcoming GT 73 Four-door Coupe is the fastest production Mercedes-Benz ever. The AMG EQS will be available in 3 configurations as Mercedes has already registered trademarks for the names EQS43, EQS53, and EQS63. Each version will have a different power output with the EQS63 being the most powerful with the 751hp. Rumour has it the car will debut late this year or early in 2022.