Robbers Raids Lagos Home, Flee With Loot In Victim's Toyota Venza, Police Allegedly Demanded N300k To Track Car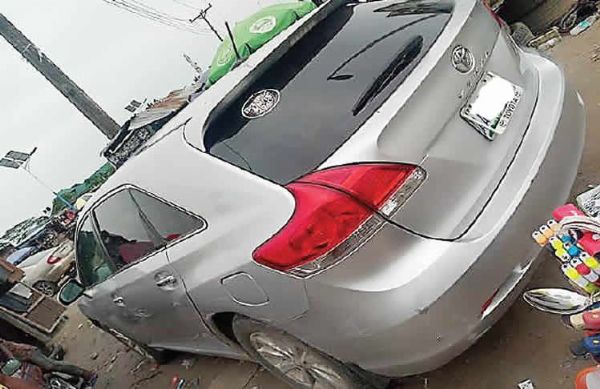 Robbers raids Ajah home in Lagos, flee with loot in victim's Toyota Venza, police allegedly demanded N300k to track car.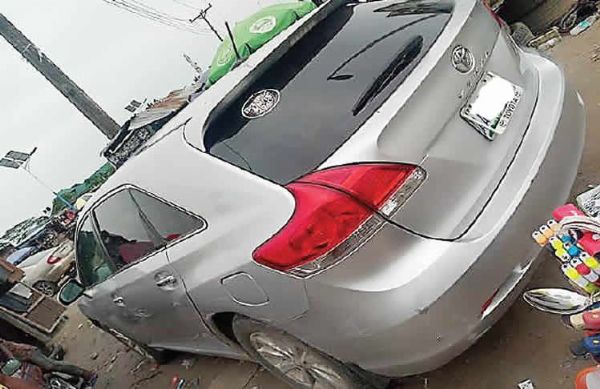 Police at the Ogombo division has been accused of demanding N300,000 to track a stolen car after being used by armed robbers to pack their stolen loots.
According to reports, armed men came to rob an apartment in Ogombo, Ajah area of the state on Thursday. The robbers later fled with the stolen items in a Toyota Venza belonging to one of the victims. Items reportedly stolen includes TVs, laptops and phones.
A twitter user, @daveyishigh, made the alleged demands of the police at the Ogombo division known in a now deleted tweets.
In his tweets, which were accompanied by a video and pictures of the stolen car, he explained that they approached police to help fine the car. But instead, they demanded N300,000 for 'mobilisation.'
"Armed men came to my crib; stole laptops, phones and even took the car of my guy that came to visit me… Ogombo division kept mocking us and telling us we deserved it because we ended SARS….they're demanding N300,000 to help search for the missing car.
"They sent us out of the station because we couldn't provide them N300,000. We even begged them with N100,000 but all fell on deaf ears," Quid wrote in one of the tweets.
However, police spokesperson in the state, CSP Muyiwa Adejobi, has denied the allegation that the police demanded N300,000 to track the stolen car.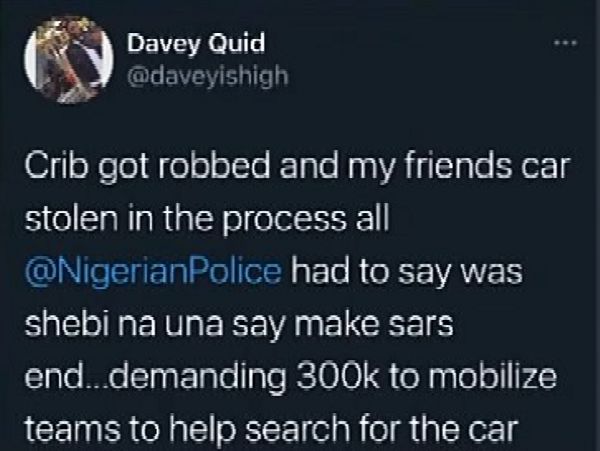 The force claimed that one of the victims, one Anthony Ojah, who happened to be the car owner, had distanced himself from the tweets.
A video of the victim, one Anthony Ojah, debunking the allegation at the police station, was obtained by City Round.
In the clip, obtained by City Round, Ojah stated that his home appliances and car were stolen. He added that the police were already assisting to recover the stolen items.
He said :
"I was the one who was robbed in Ogonbo around 2am. A lot of people came to my house, taking videos of my home and showing sympathy.
One way or the other, I don't understand who brought out the story about police asking for N300,000 to help me find my property.
"My appliances and car were stolen. I called the police and so far so good the police have been helping to track the car.
And I hope they will help me recover other property. I never asked anybody to help me circulate the incident. I am a private person. That news (demanding bribe) was false."