Tesla Model X P100D Ludicrous Beats A Lamborghini In A Drag Race.Sets An SUV Speed Record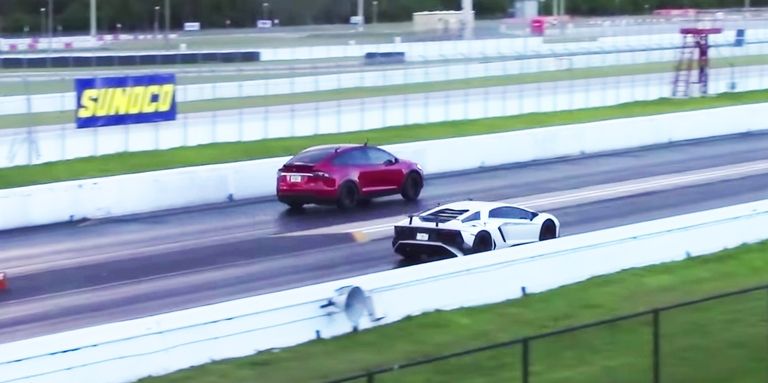 A Tesla Model X P100D with Ludicrous,edged out the Lamborghini in a quarter-mile drag race held by Brooks Weisblat of Drag Times at the Palm Beach International Raceway.
True,the win was by the slightest of margins. True,Tesla had a better start. And true,the Lamboghini was catching up fast by the end.But it's still insane to see a 5,400 pound SUV worth $165,000 win a race against an iconic supercar that weighs 4,200 pounds, and has a $530,000 price tag.
The Tesla Model X crossed the line 0.05 seconds ahead of the Lambo,setting a new world record for the fastest SUV quarter-mile time,a blistering 11.418 seconds.
Several measurements are taken for each race: reaction time,elapsed time and speed.
Reaction time is the period from the green light illuminating to the vehicle leaving the starting line.
Elapsed time is the period from the vehicle leaving the starting line to crossing the finish line.
Speed is measured through a speed trap covering the final 66 feet (20 m) to the finish line,indicating average speed of the vehicle in that distance.

Skip to 1.18
It is important to point out that internal combustion engines in some high-end cars can outperform Teslas at high speeds.
The Lamborghini covers the 1/4-mile(402 m) faster,but the Tesla crosses the finish line first.
That's because the drivers had different reaction times.The Tesla driver's reaction time was 0.350,meaning the Tesla started accelerating 0.350 seconds after the light went green which is faster than the Lamborghini driver's 0.537 reaction time
Electric cars are faster off the block because they offer instant torque: almost 100% of the batteries' energy goes to accelerating the car at a standing stop.
Internal combustion engines aren't able to exert the same degree of torque,even if a conventional petrol fuel tank packs more energy than a comparable-sized battery.
This likely won't be the last speed record to fall as electric powertrains are tuned for high-performance vehicles.
See Related Post The New Tesla Model 3 Will Drive 1,000,000 Miles Before You Service It