Toyota Launches Subcompact Aygo X Crossover For Europe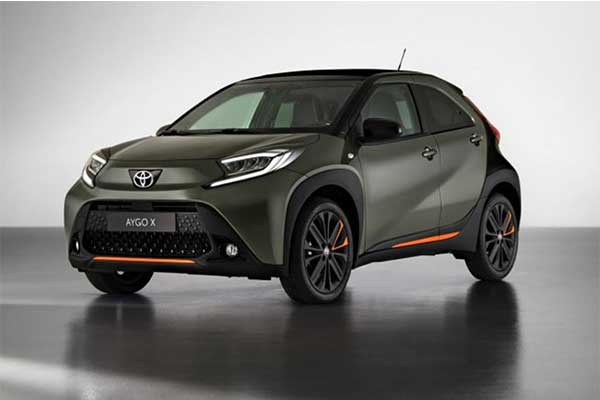 Toyota has taken the wraps off its new subcompact SUV with city car elements in the Aygo X which is based on the Aygo X Prologue concept seen many months ago.
The new car is built on the GA-B platform of the Toyota Global New Architecture and was designed at Toyota Motor Europe in Belgium where its urban crossover looks took shape. The car features a bold bi-tone exterior design and a wedged roofline. The colour palette was inspired by various spices from across the planet, and each colour has its own unique flavour. Cardamon "conjures an impression of style and elegance, delivering a refined and understated aesthetic with the green's low saturation effect", while Chilli "is a fiery and premium colour that catches the eye of passers-by with a warm and deep colour reflection thanks to the inclusion of a fine sprinkling of blue metallic flakes in the red paint," says Toyota.
Moving inside, the styling is again focused on younger demographics with curved lines and colour touches matching the exterior. The focus is on the 9-inch touchscreen integrating the Toyota Smart Connect infotainment with Android Auto and Apple CarPlay connectivity, over-the-air updates and cloud-based navigation.
In order to make the new Aygo X as capable as possible, Toyota decided to make it light and efficient and lifted the ride height by 11 millimetres from the previous-generation Aygo. The seating position has also been raised by 55 mm. This little machine weighs in at only 2,072 pounds, so the 1.0-litre three-cylinder naturally aspirated engine shouldn't have any difficulties pulling it around, even though it produces only 72 horsepower. The Aygo X will smash the 0-60 mph sprint in 15.5 seconds when equipped with the CVT automatic transmission, or 15.6 seconds with the manual box, and will top out at 100 mph.