[Video]Jaguar Tows A Man On Skis To 117 mph And Sets A New Guinness World Record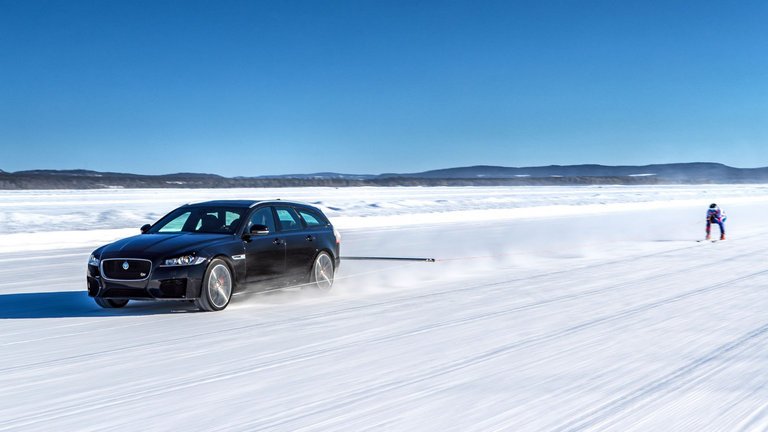 The British luxury automotive brand's obsession with the Guinness Book of World Records clearly shows no signs of abating with its latest publicity stunt — setting the fastest speed ever for towing a skier through snow.
The skier in question is former UK Olympian Graham Bell and the car that pulled him at speeds of up to 117mph is the new Jaguar XF Sportbreak with all-wheel drive.
The new record, a whole 47mph faster than the current best, was set at the Arctic Revi Test Centre in Aejeplog, Sweden, where the temperature was a decidedly chilly -28°C — great for strong, compacted snow, but potentially problematic for a car's powertrain and of course for a skier's ability to maintain his body temperature and mobility.
Yet after just two practice runs Jaguar was able to set a new record, thanks mostly to the car's special traction control system that enables smooth acceleration off the line on potentially any surface plus continuous adjustments to power channelled to the axles to counteract wheel spin and loss of grip.
The car,XF Sportbrake's superb traction, handling and high speed stability made it the perfect choice for this speed record attempt.
As well as its latest record,Jaguar also holds the record in the following
Completing the largest loop-the-loop — 19.08 meters in the F-Pace SUV.
The biggest barrel roll, turning through 270° over 15.3 meters, set in London in the E-Pace SUV in July
In March 2015 the XF sedan completed the furthest ever high-wire water crossing undertaken by a car — 240 meters traveling at a height of 18 meters above the River Thames.
Meanwhile,its sister firm,Land Rover is the first car company to drive one of its multi-tonne SUVs over a bridge constructed solely of paper and to tow a 100-tonne train for 10km along a stretch of railway track in Switzerland.
And while these feats are brilliant at attracting publicity,they also help the company ensure that their cars really are fit for purpose.
Credits: https://ph.news.yahoo.com