Volkswagen ID.X Performance Concept Is A Track Oriented Electric Sedan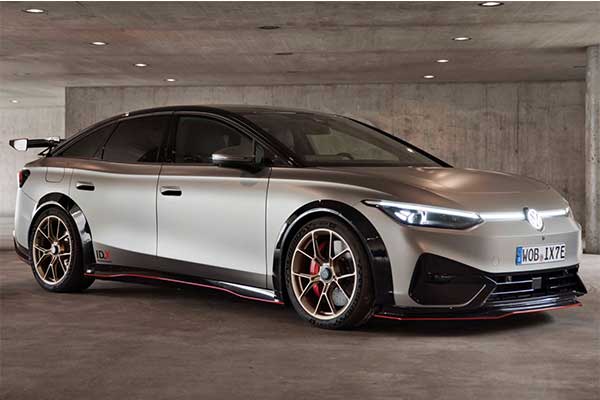 Just like every other Volkswagen ID model, the electric Volkswagen ID7 will also have a sporty top version. With this attention-grabber, called ID.X Performance, Volkswagen looks ahead in a somewhat exaggerated way to such a sporty ID7 GTX.
Volkswagen already announced a GTX version of the ID7 for the IAA, but the brand decided to postpone its unveiling. As a sweetener, Volkswagen showed this ID.X Performance during the ID equivalent of the no longer existing GTI Treffen.
Two electric motors for ID7 GTX
It has two electric motors that together deliver no less than 558 hp and drive all four wheels. The ID.GTX therefore gives a strong signal about what you can expect from an ID7 GTX. In very broad strokes. We do not expect that the production version will be as full of extensive spoiler work. After all, the GTX versions of cars like the ID4 are not either. The 558 hp that Volkswagen specifies will probably be more than a figure taken out of thin air. Don't be surprised if the ID7 GTX – or an even more powerful derivative thereof – has such an amount of electrical horsepower. According to the Germans, there is a limited-slip differential on the rear axle.
Expands a warehouse
Volkswagen has increased the track width of the ID7 for the ID.X by 8 centimeters and a set of sports springs brings the show car 6 centimeters closer to the asphalt than a conventional ID7. The car stands on 20-inch alloy wheels with a central wheel nut surrounded by tires in width size 265. More differences with a normal ID7? Certainly. For example, the rear lights are darker, and the interior features bucket seats and an extra 17-inch display.