Asese Accident Survivor, Prosper, Shares Painful Story Of How His Friends Cried For Help Until They Breathed Their Last (Graphic)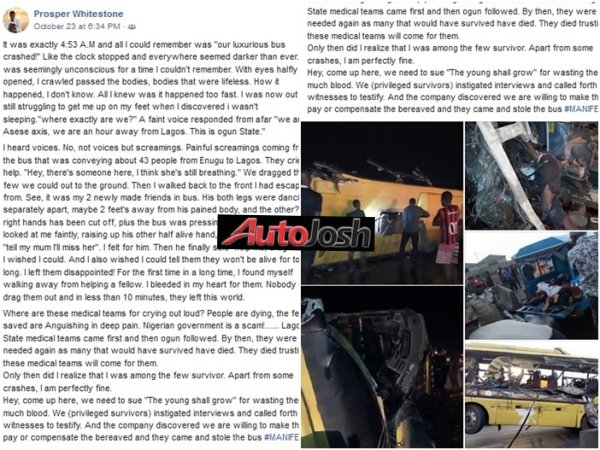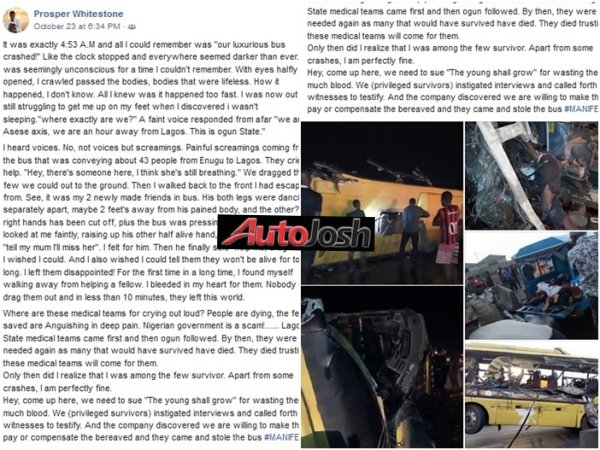 The Asese auto crash happened two days ago. It was between a Mercedes Benz Marcopolo (Luxurious bus) owned and managed by Young Shall Grow Motors Company, and a stationary Iveco truck parked along the Lagos-Ibadan expressway.
10 persons out of 42 passengers lost their lives after the crash.
Federal Road Safety Corps have already summoned Young Shall Grow Motors Company and are likely to be prosecuted after a full investigation into the accident has been carried out. You can read about it here.
A Facebook user, Prosper Whitestone, who is one of the survivors of the auto crash, shared his story aftermath the accident. He revealed how he couldn't save his newly made friends that finally died in the accident scene.
He made it clear that Young Shall Grow Motors Company should be sued for wasting so much blood. He also revealed how the motor company made away with the manifest on discovery of their (survivors) willingness to protest so that the bereaved family should be properly compensated.
Lady And Her Friend Survived This Ghastly Accident Unharmed After Their Car Somersaulted Severally
Read his story below;
It was exactly 4:53 A.M and all I could remember was "our luxurious bus crashed!" Like the clock stopped and everywhere seemed darker than ever. I was seemingly unconscious for a time I couldn't remember. With eyes halfly opened, I crawled passed the bodies, bodies that were lifeless. How it happened, I don't know. All I knew was it happened too fast.
I was now out and still struggling to get me up on my feet when I discovered i wasn't sleeping."where exactly are we?" A faint voice responded from afar "we are in Asese axis, we are an hour away from Lagos. This is ogun State."
I heard voices. No, not voices but screamings. Painful screamings coming from the bus that was conveying about 43 people from Enugu to Lagos.
They cried for help. "Hey, there's someone here, I think she's still breathing." We dragged the few we could out to the ground. Then I walked back to the front I had escaped from. See, it was my 2 newly made friends in bus. His both legs were dancing separately apart, maybe 2 feet's away from his pained body, and the other? His right hands has been cut off, plus the bus was pressing hard on his chest.
He looked at me faintly, raising up his other half alive hand, like he was trying to say "tell my mum I'll miss her". I felt for him. Then he finally said "help me, drag me out" I wished I could. And I also wished I could tell them they won't be alive for too long. I left them disappointed!
For the first time in a long time, I found myself walking away from helping a fellow. I bleeded in my heart for them. Nobody could drag them out and in less than 10 minutes, they left this world.
Where are these medical teams for crying out loud? People are dying, the few saved are Anguishing in deep pain. Nigerian government is a scam!……
Lagos State medical teams came first and then ogun followed. By then, they were not needed again as many that would have survived have died. They died trusting these medical teams will come for them.
Only then did I realize that I was among the few survivor. Apart from some crashes, I am perfectly fine.
Hey, come up here, we need to sue "The young shall grow" for wasting these so much blood. We (privileged survivors) instigated interviews and called forth witnesses to testify. And the company discovered we are willing to make them pay or compensate the bereaved and they came and stole the bus #MANIFEST.