See What This 'Big Man' Allegedly Did After Bashing A Photographer's Car (Photos)
A Twitter user whose username is @tayonas1, made a series of tweets on his ordeal with a 'big man' who bashed his car. He also stated that the said 'big man' bashed his car the second time and drove off laughing.
The LASTMA officer that intervened fled the scene on finding out who the man was. He didn't want to lose his job. The photographer's car is a Toyota Camry while that of the big man is a Land Rover Discovery SUV.
We were able to get the series of tweets.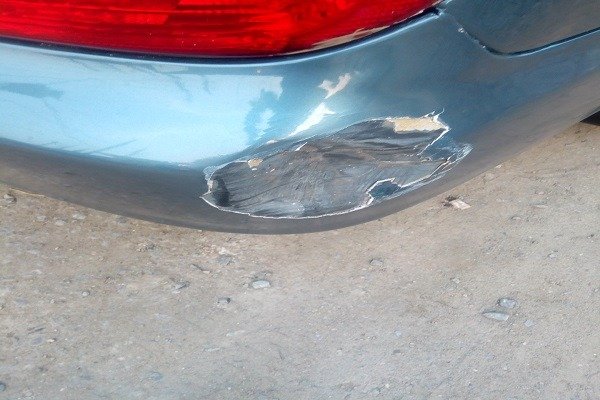 Read all he wrote below;
At about 1pm this afternoon, the man whose picture was taken ran into my car a blue Toyota Camry, @ Anthony while heading to the airport, the intervention of the Lastma and police official was fertile as the man was busy having a field day laughing and making snide remarks.
He promised the officers he will rather give them money than apologize or fix a common man's Car , the officers left when I brought out my phone to cover the event, they said I should face it myself, the policeman claimed, "the man is a BIG man, I don't want to loose my job"
He was busy laughing, his words " you common men have no voice in Nigeria , he reversed and hit the car the second time, and drove off laughing @segalink
@CaptainArinze
@aproko_doctor
@Omojuwa
@DoctorEmto
@CACCOT1
Help
get justice for a common man as he claimed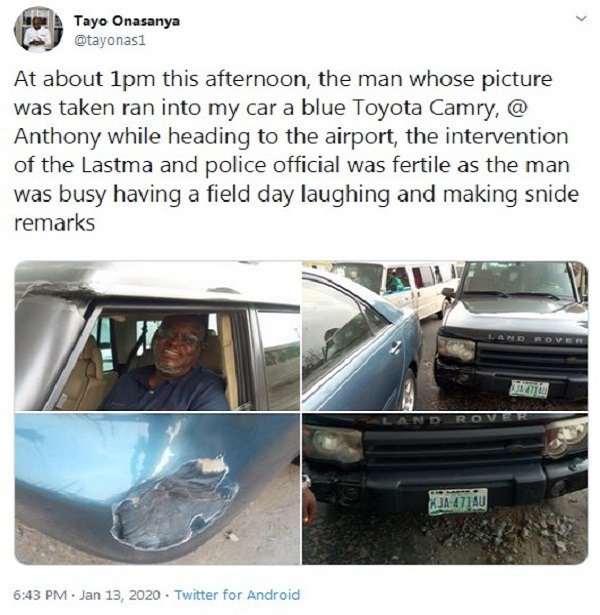 Tayo Onasanya (@tayonas1) is a father, sales/marketing strategist, photographer and brand manager.
If you should think outside the box, it seems the 'big man' played it smart. He might not be what the photographer thinks. Some folks on Twitter even said the 'big man' is an agbero.
What do you think about the whole thing?