Coscharis' Motors Ford Delights Auto Enthusiasts At The 2023 Lagos Motor Fair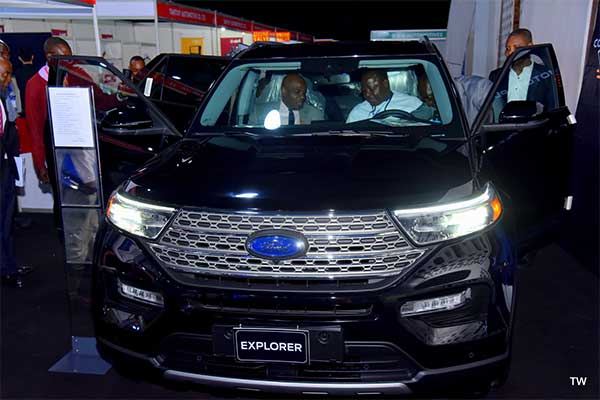 Leading automobile dealership in Nigeria, Coscharis Motors Plc, a subsidiary of Coscharis Group and the exclusive franchisee of the Ford brand in Nigeria excited automobile enthusiasts and customers at the recently held 2023 Lagos Motor Fair and Autoparts Expo, which took place at the Federal Palace Hotel, Lagos. Coscharis's participation at this edition of the auto fair similar to the past editions was in a bid to ensure that the Ford showroom is brought closer to customers and enthusiasts, thereby availing them the opportunity to interact with the latest Ford products in the market.
Speaking at the fairground, Abiona Babarinde, General Manager, Marketing & Corporate Communications, Coscharis Group said, "We are excited to showcase these variants of our Ford brand at this year's Motor Fair to the delight of everyone that visited our stand; most especially the Ranger 4×2 single cabin, assembled here in Nigeria at our ultra-modern auto assembly plant in Awoyaya, Lagos. Also on display here at the fairground are the iconic Ford Explorer, Ford Edge and the recently introduced Ford Bronco respectively with guaranteed warranties that come with the purchase of any of these variants to the delight of numerous visitors to our stand. Part of the takeaway during the fair was the finance scheme package in collaboration with some of our reputable financial institutions including one of our sister companies (Coscharis Mobility) together with a robust insurance cover by our insurance partners (Tangerine and AIICO insurance) firms respectively. You will agree with us that all these deliver a comprehensive soft landing for both existing customers and prospects alike to keep enjoying their favorite Ford vehicles they can now afford".
"We also want to seize this opportunity to wet our customers' appetite by informing them about the All-New Ford Territory, which is soon to debut officially in Nigeria. The all-new Ford Territory which is built for young, smart, and connected customers has a modern design and advanced technology features that deliver a highly exciting and progressive customer experience. Look out for it, it's coming soon."