Flyboard Hero Crashes Into The Sea During His Attempt To Cross 22-mile English Channel On His ₦90m Jet-powered Hoverboard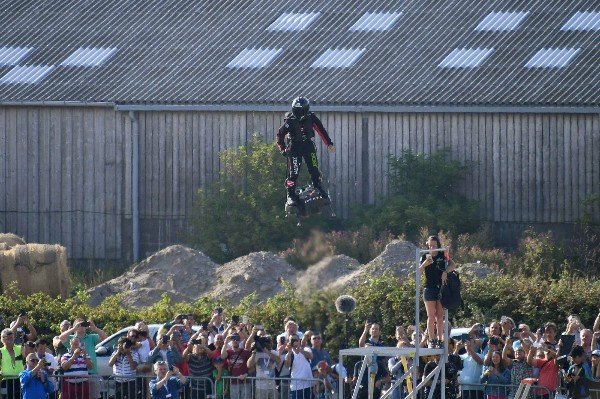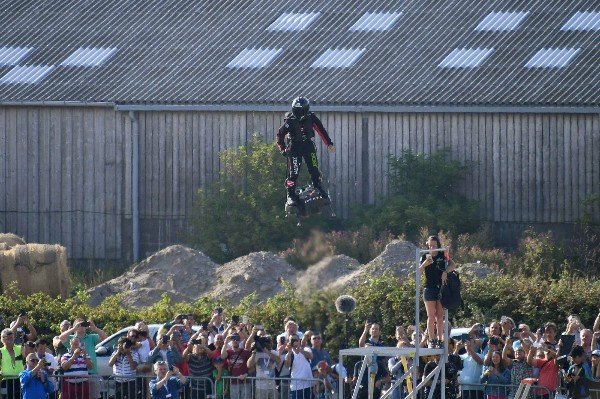 Yesterday, during the 110th anniversary to mark Louis Bleriot's first airplane flight across the English Channel on July 25 1909, French inventor, Franky Zapata attempted to make the 22-mile crossing on his jet-powered flyboard — but failed.
The former jet-ski champion, who received widespread attention when he took to the skies during France military display on his futuristic flyboard earlier this month and also outran a Lamborghini Huracan, had been hoping to cross from northern France to southern England in just 20 minutes.
About 15 minutes after takeoff from Sangatte, in northern France, the 40-year-old fell into the water while trying to land on a small boat to refuel his flyboard.
The uninjured Zapata, who was around 11 miles from the finish line at St Margaret's Bay, England, is planning a second bid to fly across the Channel next week.
He told the press conference:
"I could see the British borders,"
"We should have done a takeoff and landing test, but we were not allowed"
"When I got closer to the platform, the boat took a wave and it hit the foot of the machine and broke it"
"I lost balance, I fell in the water. The flyboard is damaged, the electronic part has to be redone, the motors are ruined but the base is saved"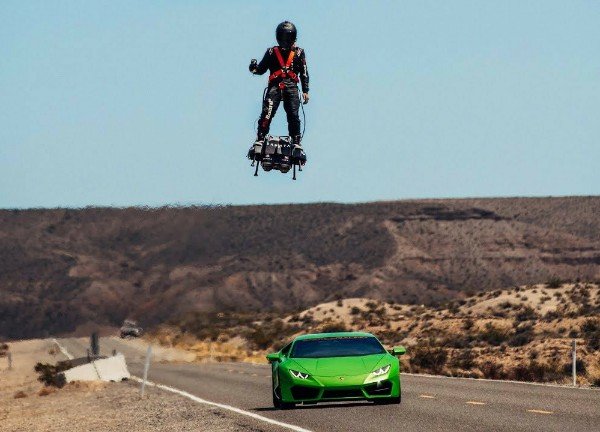 Right now, he plans to find a bigger boat that he can land on to refuel his invention. His ₦90 million jet-powered hoverboard, which is about the size of a skateboard, is powered by five small jet engines and fuelled by kerosene which is kept in the rider's backpack.