Hoverbike: Dubai Police Trains Officers How To Fly The Newly Acquired Flying Bike
Oil rich Dubai's Police has started training two of it's officers to fly the newly acquired S3 2019 Hoverbike with the hope introducing it to the force by 2020.
The Police department ,which already boast of the fastest and most expensive police cars ever ,said that the Hoverbike will primarily be used at locations that are difficult to access with it's fleets of supercars.
See The Amazing Collections Of Luxury Cars In Dubai Police Force Fleet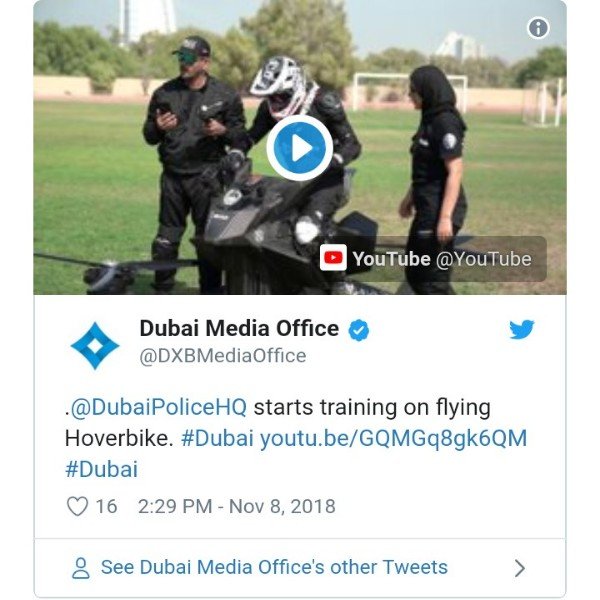 The single-seater Hoverbike can fly 16 feet (5m) above the ground and run for 20 to 25 minutes on a single charge, reaching a top speed of 60mph.
The Hoverbike can also cover up to 6km or fly for 40 minutes without a pilot .The swappable batteries needs about 3hrs to get fully charged.
See The Most Expensive Police Car In Various Countries
The California-based Russian company Hoversurf, which showed off the High-tech flying bike in Dubai last year ,said buyers can now take deliveries of the $150,000 S3 2019 Hoverbike within two to six months from the time of reservation.
Hoversurf also plans to unveil a two-seater version of the Hoverbike in about four to five months,which will be available for purchase in 2020.