Jerry Mallo: Meet The 26-Year Old Maker Of Nigeria's First Carbon Fiber Sports Car
Jerry Mallo is a Fabrication engineer. He is the chief executive officer of Bennie Technologies LTD. He unveiled the country's first locally manufactured carbon fiber sports car – the Bennie Purrie.
The carbon fiber is the cars main component. It gives it an impressive strength-to-weight ratio. Thus, making the car five times lighter and 10 times stronger than typical steel.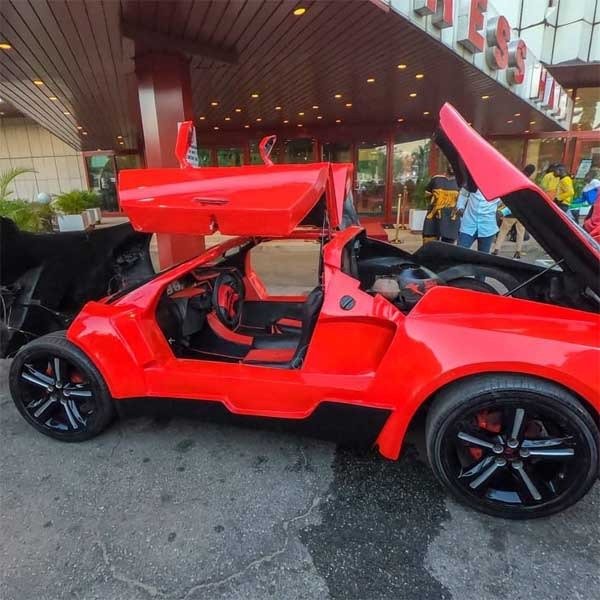 Note that, Formula One race cars are all carbon fiber. The use of carbon fiber is for safety reason, not performance. This will ensure that the car protects its occupants while maintaining a relatively higher speed than most cars.
On the safety feature of the material, Mallo explained that most people are crushed and mashed in cars because those cars are made from aluminium or galvanized sheets that cannot absorb shocks at high speed.
Mallo Jerry said he was inspired to create the Bennie Purrie because Nigeria and Africa as a whole has a large market for luxury vehicles.
"Nigeria is a very big market for luxury vehicles. I got that exposure when I was in Europe. We learnt that making the car is just half of the challenge. Selling it is the other half. Africa is usually the target place to sell these vehicles. So I feel there's a big market for it here," Mallo stated.
The vehicle also has a great cooling system, with four radiators to ensure it remains cool inside regardless of the temperature.
In terms of speed, this first model goes from 0 to 120 in 12 seconds and has a 2.0-litre engine which produces about 130 horsepower.
Mallo is however determined to improve the first model and hopes to do so with proper funding so that he and his team can ultimately manufacture standardised vehicles for general consumption.
Mallo Jerry, the Jos-based fabrication engineer, was born in Plateau state to Nigerian parents in 1994.