Lagos State Government To Continue Clampdown On Traffic Law Violators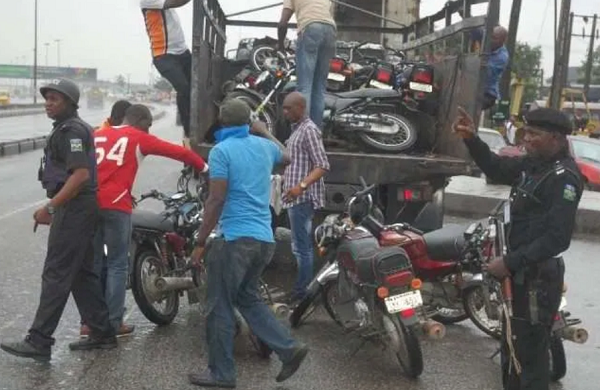 Lagos State Government will continue to enforce its traffic laws to maintain sanity on roads and save lives. The State Environment and Special Offences (Enforcement) Unit (Taskforce) will keep enhancing the enforcement of the Lagos Traffic Law.  This is to checkmate the excesses of commercial motorcyclists and others who drive against oncoming traffic and ply restricted routes.
According to the state government, commercial motorcyclists have taken laws into their hands and attacked the Task Force team, injuring officers carrying out their lawful duties. The perpetrators of this violence will face the law upon apprehension.
However, the officers were undeterred by the criminal activities of the motorcyclists. A total of 131 motorcycles were seized and 150 vehicles impounded in various areas of the State.
Traffic enforcement agencies will continue to assert their authority. They have been directed to arraign and prosecute all violators to ensure that penalties are apportioned in consonance with the law.
For the avoidance of doubt, commercial motorcycles and tricycles remain restricted from operating in six Local Governments and nine Local Council Development Areas – Apapa LG; Lagos Mainland LG; Surulere LG; Ikeja LG; Eti-Osa LG; Lagos Island LG; Onigbongbo LCDA; Ojodu LCDA; Ikoyi-Obalende LCDA; Iru-Victoria Island LCDA; Lagos Island East LCDA; Apapa Iganmu LCDA; Yaba LCDA; Itire-Ikate LCDA; and Coker-Aguda LCDA.
The Lagos State Government will continue to dialogue with stakeholders in the transportation sector – NURTW, RTEAN, ANACOWA, TOOAN, TODAL and MOALS – to restore sanity on Lagos roads and halt the disregard for the Lagos Traffic Law (2018).