Limited Edition Fashion Oriented Mercedes-Maybach S680 Haute Voiture Unveiled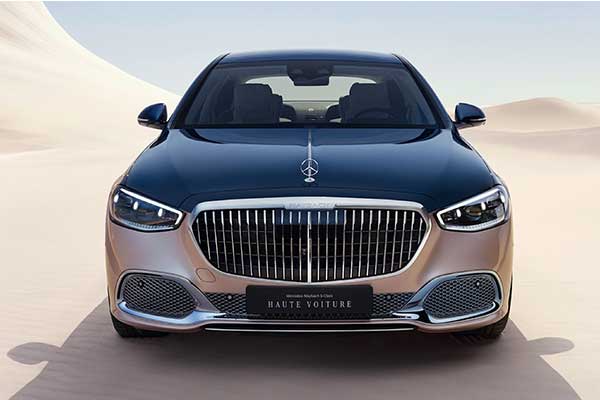 For rich folks who fancy themselves fashionistas, the 2023 Mercedes-Maybach S680 Haute Voiture is a fashion-show-inspired variant of the already ultra-classy Maybach S-class. The brand is making just 150 of them, and sales begin in early 2023.
Based on the Maybach S680, the exterior of the new model is characterized by its two-tone paint finish. The vehicles will all be painted a nautical metallic blue on top, with a rose tone on the lower section. The wheels complement the design and are painted the same blue as the top section. When the doors are opened, LEDs create Mercedes logos to light up the front and rear entry areas.
The interior is the highlight, and it continues the blue and rose gold theme with the colors added to hard dash panels. The seats are finished in white leather. Most unique are the bouclé fabric accents on the door panels and in some areas on the seats that have a blend of dark blue, beige, gold, and rose gold colors to tie the vehicle together. Mercedes also customized the infotainment system so users can have fashionable avatars to mark their profiles, and there are animations scattered throughout such as glitter clouds to evoke fashion shows.
Each car comes with special accessories for the buyer. A hand-made gift box holds the vehicle's badge number, a scale model of the Maybach, and a key ring. A car cover with the brand logo and Haute Voiture badge is also part of the package.
As with regular Maybach S680 models, the Haute Voiture features all-wheel drive and a 621-hp twin-turbo 6.0-liter V-12. This engine is mated to a 9G-Tronic automatic transmission.
"The Mercedes-Maybach S-Class Haute Voiture heralds a new chapter of high exclusivity for the brand," said Daniel Lescow, the head of Mercedes-Maybach.
This is the second time the S680 Maybach is undergoing a fashion-based model as a few months back a limited edition model by Virgil Abloh was launched.