The Super Electric Car That Is Faster Than A Tesla,Ferrari And Bentley
Hello guys ,some weeks back I informed you with a video about a car built by a startup "Faraday Future" that beat a Ferrari 488 GTB, a Bentley Bentayga and a Tesla Model X P100D in a drag race.If you missed it you can check it out here .
If you noticed in that video the identity of the car was hidden.The makers "Faraday Future",have officially showcased the car at CES 2017.It is named FF91.And the car is just awesome !!!:
–
It has an awesome design
It is a self-driving electric car
It goes from 0mph to 60mph in just 2.39 seconds !! , beating a Ferrari ,Bentley,and a close competition Tesla 

Model X

P100D which accomplished a close feat of 2.5 seconds .
It has a self parking function
It has a staggering 130Kwh battery pack !!.
It would have a system where you can log on from any computer and upload movies or routes to your car from any location.
Even though this start up is having trouble with finances at the moment ,it has revealed plans of releasing the FF91 in 2018 .And if you would like to preorder you would have to provide a refundable $5,000 ( approx N2,500,000
) deposit .
Here are some more images to feed your eyes from the CES 2017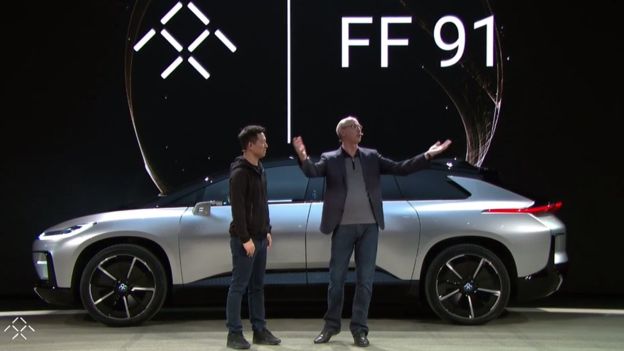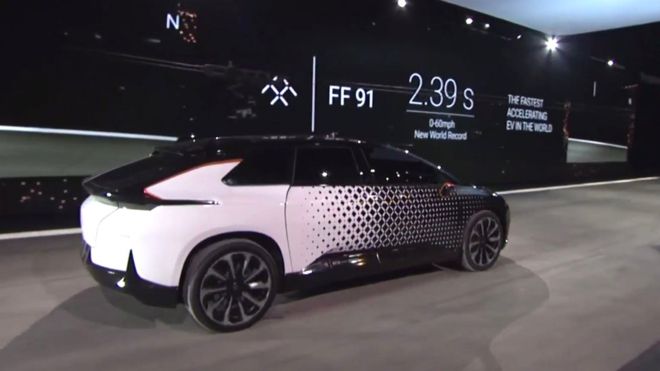 This is a very promising company with nice ideas and what an automotive analyst called "realm of fantasy than reality",I believe they would pull through .The question is how fast can they contend and surpass companies like Tesla with solid foundations.The coming months weeks and years would be defining moments.
What do you think ?,can they eventually beat Tesla and other other automobile companies currently fighting their way into the self-driving car market ,or would they fall out soon.kindly share your thoughts and opinions with us .
Don't also forget to share .Thanks