A Mercedes-Benz G-Wagon Trailer Just Delivered A ₦1.4b Bugatti Chiron Supercar
A Mercedes-Benz G-Wagon trailer delivered a ₦1.4b Bugatti Chiron supercar to a shopping mall in London.
The 4,400 lb Chiron is no problem for the G-Class, which has a towing capacity of 7,716 pounds.
Owning a Bugatti Chiron is a pleasure that is only enjoyed by the wealthiest amongst the wealthy.
With less than 100 Chiron's still available for order from the planned 500, customers keeps signing the checks despite having a starting price of around $3 million.
Last week, a video of a insane Bugatti Chiron that was being delivered to a well-known shopping mall in London surfaced online.
According to reliable sources, the Hypercar, worth around $3.5 million, came all the way from Monaco.
Unlike the traditional single enclosed car-carrier truck that carries single cars to customers, the trailer that ferried the Bugatti Chiron was pulled by a Mercedes-Benz G-Wagon.
To offload the hypercar, the driver opened the back of the trailer, dropped the ramp, hopped into the Chiron and drove it out onto the road.
The 5,600 pounds Mercedes-Benz G-Wagon has a towing capacity of 7716 pounds. It was able to pull the "Speed Demon" without any issues. Variants of the Chiron weigh between 4,360 to 4,400 pounds.
All the variants of Chirons comes powered by the same 8.0-liter, W16 engine. The quad turbocharging gives a 1,479 horsepower.
Bugatti said each Chiron takes ten months to build, while final assembly takes eight weeks.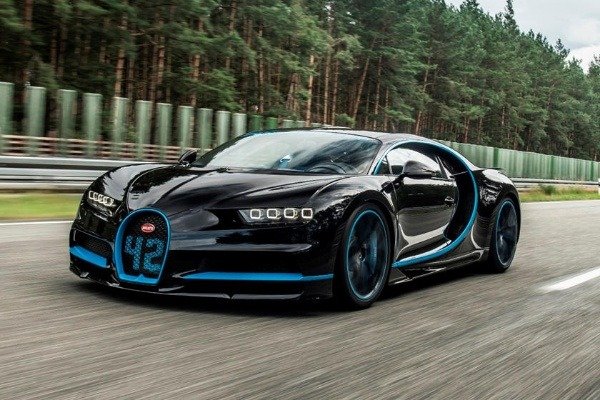 In the first year of production, Bugatti made 70 Chirons, followed by another 76 in 2018.
Bugatti is expected to complete the making of over 80 examples before the year runs out.
Have You Seen Any Version Of The Bugatti Chiron In Nigeria Before?
Also See: Buy and sell cars faster on Carmart NG