Lady's Newly Purchased Mercedes Benz GLK350 Catches Fire And Got Burnt To Shreds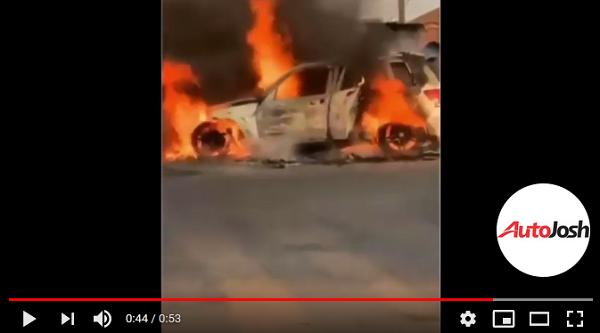 Many hours ago, there has been this video of a burning Mercedes Benz GLK350 circulating on the internet. We got to know that the GLK350 was purchased not long ago before it was caught up in the inferno.
The video shows a happy lady celebrating a newly acquired GLK350 with someone else recording the whole happy moment. However, another phase of the video shows people struggling to save the Mercedes Benz GLK350 which unfortunately burnt down. If you're observant enough, you'll see the fire was concentrated on the fuel pump and fuel tank region of the car. We can't for sure ascertain what caused the fire outbreak, but a lot of people are of different opinions.
Watch the video below;
Some are blaming the village people while some are blaming the dealer. Some are saying it's electrical issues that was carelessly handled and so on.
Meanwhile, we did our research and found out there was a safety recall on the GLK and some other Mercedes Benz cars like CL63 AMG and S550 due to fire risks. The problem lies with a defective fuel filter.
"Due to an irregularity stemming from the molding process of the fuel filter flange, the fuel filter flange may crack when operated in high temperatures," said NHTSA in its summary of the problem. "If the fuel filter flange cracks, it will leak fuel, which may lead to a fire if an external ignition source is present."
It is so sad watching this car worth up to N6,000,000 burn down to shreds.
When you buy such an expensive car, it is extremely important you go for comprehensive insurance in case there is a mishap like this.