Nigerian Woman Cruises In Her N35m Tesla Electric Car, Says 'I'm Cruising In My Machine' (Video)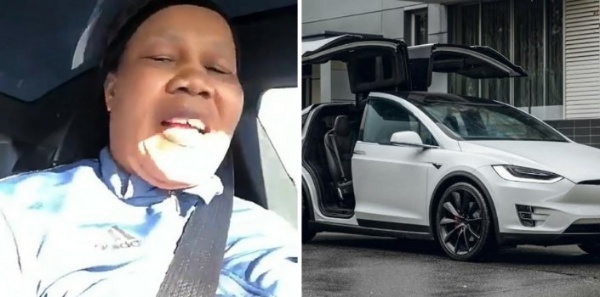 Nigerian woman cruises in her Tesla all-electric car after splashing out $90,000 (N35 million) on the new ride; she says 'I'm Cruising In My Machine'.
A young man with the twitter handle, @Sisso_quam, has shared a clip of her happy mum cruising in her brand new Tesla all-electric car.
In the short clip, his mum could be heard saying :
"That's me in my machine, I'm cruising today, my machine just landed today. That's my $90,000."
Video
According to her, the electric vehicle is worth $90,000, which is approximately N35,700,000 (N35.7 million at current exchange). This price excludes local taxes and destination cost to Nigeria.
@Sisso_quam captioned the 30 seconds clip with :
"My mum in a #Tesla she say make we no near am."
The user didn't reveal the model his mum bought, but it is likely to be a Model S, judging by the massive glassroof and the price. The all-electric luxury Model S, priced from $74,990 to $91,490, is currently one of the most expensive Tesla car.
It seems lack of stable power supply in the country plus short drive range isn't stopping us from using electric cars as news of Nigerians buying one keeps popping up.
So if you consider buying one, especially a Tesla vehicle, you can choose from the flagship Tesla Model S or Model X, or the less expensive Model 3 or Model Y.
The Tesla Model S and Model 3 are sedans, while the Model X and Model Y are crossovers SUVs.