Okada Ban: Motorcyclist Turns Dispatch Rider By Using Dustbin As A Dispatch Box To Evade Police Arrest
Dispatch rider? Just when you think you have seen it all; A motorcyclist was spotted in Lagos using a dustbin as a makeshift dispatch box to evade police arrest.
The belief that dispatch riders are exempted from Lagos ban has forced a man to mount a plastic dustbin on his bike to turn it into a dispatch motorcycle.
In a trending video, the man was spotted in Lagos riding a motorcycle that has a plastic dustbin mounted on the rear to evade police arrest.
The clever rider believes putting the makeshift dispatch box on his bike is the only way out to cruise his motorcycle without being arrested since dispatch riders are exempted from the ban.
This comes a week after the Lagos State government banned motorcycle owners (Okada) and tricycle riders (Marwa) in six local government areas. They were also banned from major highways and bridges across the state.
According to Lagos state government," the level of compliance was over 90%". "In fact, some of the ride-hailing companies directed their riders to obey the directive. This is commendable".
The only motorcycles that are exempted from thus ban includes those used by dispatch riders and power bikes.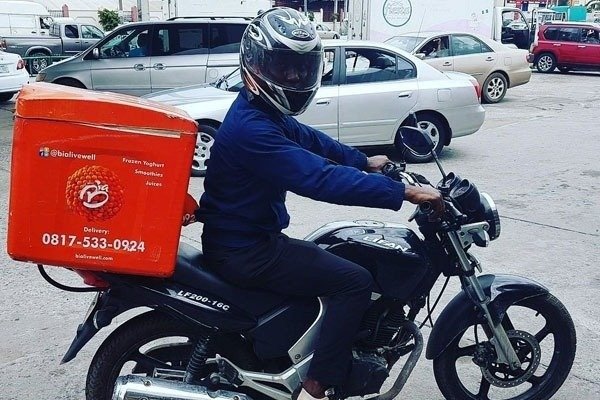 Despite the fact that motorcycles used for courier services are not included in the restrictions, the Lagos State Police Command says the operators must strictly obey traffic laws.
Commissioner of Police in the state, CP Hakeem Odumosu, in a statement that :
"Operators of courier services must strictly obey traffic laws and ensure that they do not drive against traffic (one way).
"Dispatch riders must put on their crash helmets and should have the dispatch box fixed at the back of the motorcycle.
"The bike must strictly be used for courier purposes, no carrying of passengers."
Also See: Buy and sell cars faster on Carmart NG