Ray Hushpuppi Acquires A Rolls Royce Wraith Black Badge Days After Buying A Bentley Bentayga (Photos)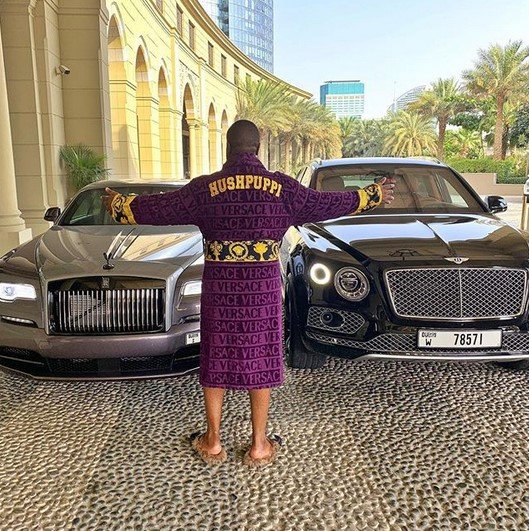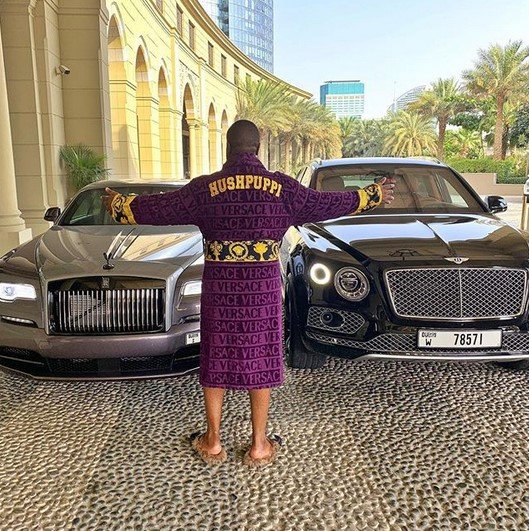 Just few days ago, Ray Hushpuppi who is the self proclaimed Gucci lord and master bought as Bentley Bentyga for himself as a Valetine's day gift. Without taking a break on his spending spree on luxury cars, he just acquired this Rolls Royce Wraith. It's not just an ordinary Wraith; it's black badge.
Hushpuppi is best known for his luxurious lifestyle he lives both home and abroad. The young man has taste for good things as he is highly fashionable.
He broke the news of the luxury acquisition using his verified Instagram account.
He wrote;
What y'all think about my new bespoke black badge Rolls-Royce Wraith? Lol.
This post is to everyone who has been made to feel low about themselves, to those who has been told will never amount to anything, to those who has been looked down upon, I want you to know today that as long as you don't see yourself as low as they make you seem, as long as you have a valid dream and work hard, and most importantly if you believe in God, you can achieve anything and everything. This post is specially dedicated to all Hushpuppi fans worldwide, to those who don't know me and has defended and supported me in anyway or the other, to my real friends JJ, Rawflesh, OvaWise, Debo Bentley, SK, Hp and S.p of Ghana and all those that I can't mention, God bless you all. Make una repost and congratulate me o make my success loud pass my failures and shortcomings 🤣
#RollsRoyce #Bentley #Wraith #Bentayga #BlackBadge #Versace m