See Some Of The Bad Roads And Waterways in One Of The 9 Slums In Lagos State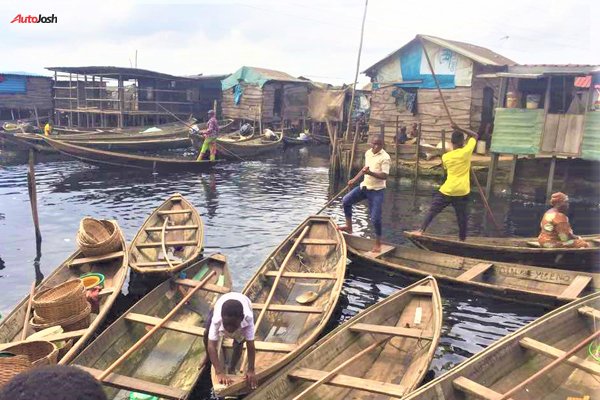 Tucked away in one of the waterfronts on the mainland of Lagos state is Makoko-Iwaya waterfront.
Makoko-Iwaya is a large low-income community with half the resident there living on water.
Specifically, Makoko is made up of 6 separated villages. They are all spread across land and water. These villages are Oko Agbon, Adogbo, Migbewhe, Yanshiwhe, Sogunro and Apollo. The first four are the floating communities, known as Makoko waterfront; the rest are based on land.
A third of the shelters in Makoko is built on stilts along the lagoon and the rest is on the land.
This waterfront part of the community is largely harboured by the Egun people who migrated from Badagry and Republic of Benin and whose main occupation is fishing
Makoko has a population estimated to be 250000.
The Makoko-Iwaya axis is mostly not accessible via motorbikes, let alone tricycle or cars.
Roads there are typically dirt or waterlogged roads. For instance, Ajoke street, Raimi street, Sogunro street close to the lagoon, etc.
Residents there commute within and around the community via small fishing boats. For instance,  there, boats charge N100 from Sogunro to neighboring communities such as  Better Life and Oko-Agbon.
Meanwhile, some places are only accessible using wooden bridges suspended on stilt.
According to the World Bank, Makoko is one of the 9 major slums in Lagos state.
The other slums  are Agege, Ajegunle, Amokoko, Badia, Iwaya, Ilaje, Bariga, Ijeshatedo -Itire.
Makoko is in Yaba Local Government area of Lago state.
The Executive Chairman of Yaba Local Government Area is Omiyale Kayode Adejare.
Akinwunmi Ambode is the governor of Lagos state.