These Are 5 Discontinued Kia Cars Of Recent (Photos)
Kia cars have come a long way and their fan base has increased. From cheap knock off of Mazda back in the day to reliable cars we see now. This doesn't mean all were successful as some models met their end due to various reasons. We will look at 5 Kia cars that are now discontinued of recent, most of them graced our Nigerian roads.
1. Sephia
The Kia Sephia as a small car that was based on a Ford platform and had mixed reviews. It was a very affordable vehicle back then and it lasted for a long time from 1992 to 2003 and it spanned 2 generations. The last generation had a major improvement but was lagging behind in comparison to rivals, the model was discontinued. It was available in a 4 door sedan. In Nigeria, it was among the first set of Kia vehicle to be introduced when the company came back to the market. A single 1.8-litre 16v engine mated with either a 4-speed automatic or 5-speed manual was available.
2. Shuma
The Shuma was technically a Sephia in another guise, it was a 5-door liftback variant of the Sephia sedan. All the configurations, platform and engines are the same but the edge the Shuma had was a large trunk space. The Shuma had a better interior space than the Sephia. In the US it was called Spectra 5 and the Sephia was called Spectra but now the nameplate has changed to Forte in the US and Cerato globally. This model was popular too in the Nigerian market.
3. Carens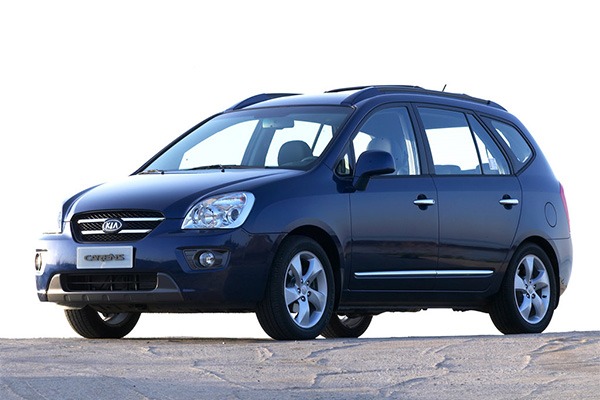 The Carens was a small minivan that also followed the first set of Kia vehicles to be introduced to Nigeria. The first generation was popular but the second generation didn't receive that much of a praise. It wasn't a bad model but sales was terrible. Infact the second generation model had an optional 2.7-litre V6 but that didn't help matters at all. There was even a 3rd generation model but its popularity further dwindled and was finally discontinued in 2019.
4. Opirus
When Kia wanted to have a taste of luxury, they did so with the Opirus and it had a similar look to the Jaguar S-Type.  A few were seen in Nigeria and it was received well internationally. The ride handling was clumsy and the cornering was terrible. Kia finally discontinued the model in 2012 and replaced it with the Cadenza which was better but still suffer slow sales. It was powered by a V6 engine with different displacement and was mated with either a 5 or 6-speed automatic transmission.
5. Mohave
Before The Kia Telluride became the best selling mid-size SUV there was the Mohave as we know it in Nigeria. The Mohave was a large SUV with 7-seats and had luxury features. It was the first Kia SUV to come with a powerful V8 and it competes with the likes of the Ford Explorer and Nissan Pathfinder. The vehicle was discontinued internationally in 2018 but in 2019 a new model still based on the current platform and sold only in its country of birth (South Korea)