Throwback Thursday: Toyota Echo, The Funky Small Sedan Of The Early 2000s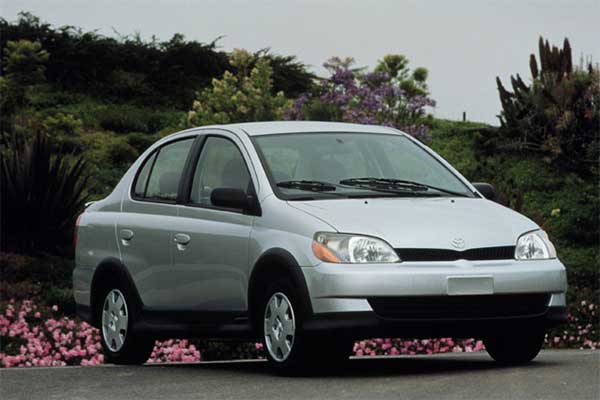 The Toyota Echo sedan was an oddball for Toyota back in the day, it made its debut in 1999 as a 2000 model year and was sold in Nigeria via Toyota Nigeria Limited at that time.
It wasn't designed for looks. It was designed for comfort, convenience, safety, and affordability. So it's tall. Way tall. Unheard-of tall for a subcompact. Like, taller than a Cadillac, which is much, much longer.
With one swift, upward stroke, Toyota designers have erased the biggest factor against owning a small car: that feeling that other vehicles could squash you like a bug. In the Echo, it no longer feels like everyone is bigger and faster than you. Now you look down at Cadillacs, as you get nearly 40 mpg on the highway.
Originally, Toyota offered the Echo for the 2000 model year in coupe and sedan body styles. Both were available in one trim level. Power comes from a 1.5-liter four-cylinder engine. In 2003, Toyota gave the Echo a redesigned front end, a new trunk lid, and a new Appearance Package that gave the vehicle a sportier look.
The Echo comes standard with 14-inch steel wheels, cloth upholstery, four-way adjustable front seats, four audio speakers, a tilt-only steering wheel, and tinted glass. Optional features included a rear spoiler, air conditioning, a quartz clock, power door locks, six audio speakers, and a cassette player. On the safety front, the Echo came standard with dual airbags. Optional safety features include antilock brakes and side-impact airbags.
After a short run from 2000 to 2004, the Echo was discontinued after only selling around 4,000 units in its final year. The biggest issue with the Echo was its lack of features. The young people it attempted to grab the attention of saw it as a small, boring econobox, and those young people flocked to more stylish used vehicles instead.